Nov. 9. Former Charlotte Mayor Anthony R. Foxx has been named an independent member of the Martin Marietta Board of Directors. The Davidson College grad who wass also secretary of the US Dept. of Transportation, will serve on Martin Marietta's Finance Committee.
Foxx is currently chief policy officer and advisor to the chief executive officer of Lyft, which he joined in October 2018.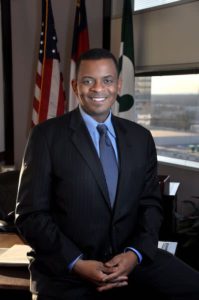 Foxx, who was secretary of transportation from 2013 to 2017, led an agency with more than 55,000 employees and a $70 billion budget.
Foxx was first elected to the Charlotte City Council in 2005, and in 2009 became the youngest mayor in Charlotte's history.
He earned a J.D. from New York University School of Law in 1996.