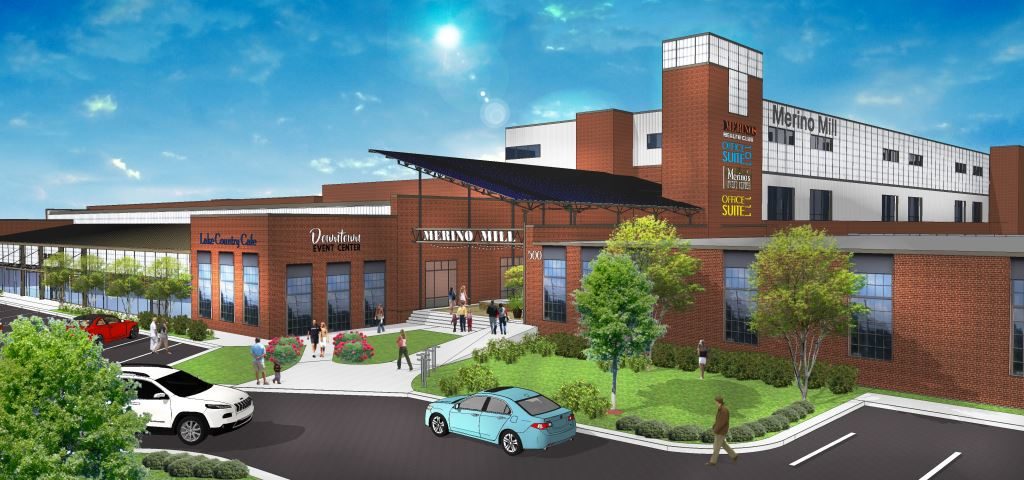 By Dave Yochum. Look for more retail space to be converted to office space—a growing trend in commercial real estate. Indeed, some 60,000 square feet of space that was Merino's Home Furnishings near downtown Mooresville will be turned into office space after the end of this month.
"The conversion of retail to office is a trend, given the litany of store closings and consolidations. Online retailers such as Wayfair have impacted the furniture sector," says Kathleen Rose, founder of Rose & Associates Southeast, a real estate and economic development consultancy based in Davidson. The historic Burlington Mill on South Main Street in Mooresville is getting yet another new life, having been repurposed as a furniture warehouse in 2011.
The emphasis will be on contemporary office space in an upbeat, "authentic" environment. Rose said the challenge for such a conversion is to provide space which meets the needs of today's workers, who have turned the notion of traditional office space on its head.
"The Mill will provide the features desired, namely cool, old, authentic space," Rose said. The walkable, mixed-use environment is what today's companies—think Amazon HQ2—want.
"The Mill, with its existing food offerings, such as Alinos and the Barcelona Burger Bar with outdoor seating, offer the type of experience that these workers seek," Rose said.
In December, Merino's owner Michael Bay announced that Mooresville-based Adams + Associates Architecture would design a 110,000 square foot renovation around office and showroom space.
Office tenants at the sprawling textile mill complex already include Hitachi, Greenworks Tools, Mohawk flooring, Yotrio and the Mooresville South Iredell Economic Development Corp.
Rex Butler, who runs Main Street Antiques in the Merino complex, said that Bay came by within the past week to let all the tenants know about more changes. "He said that while the furniture store was performing well, there is now more demand for office space."
The space features large windows, exposed brick and wooden beams—standard features in old mills—and a draw for contemporary office space.
"While this may come as a shock to some, I'm sure he has been thinking about this for a while, Butler said.
Butler, who has been at the Mooresville location for close to four years, will continue operations at the same location.