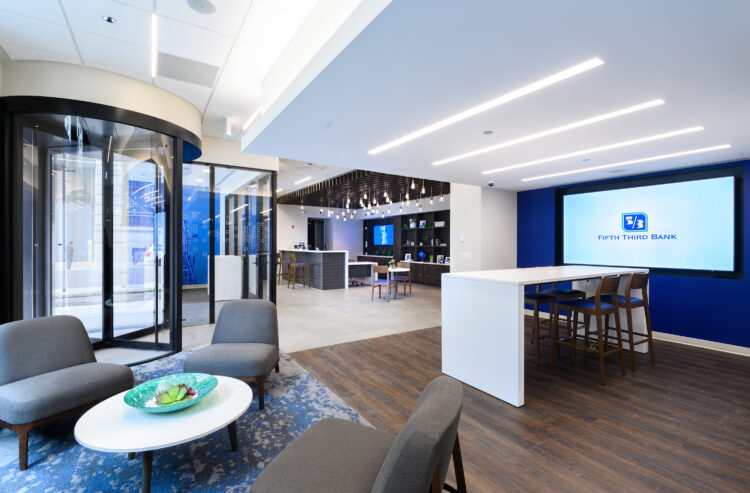 April 2. By Dave Yochum. A new Fifth Third branch on West Catawba in Cornelius will have an entirely different banking experience from the traditional Fifth Third branch that will remain open just a mile away.
It will be a "next-generation" branch, which means open spaces and no teller windows. Fifth Third says it will open the Financial Center in mid-June. Adam Sailers will be Financial Center Manager; staffing includes three personal bankers.
Not like a bank branch
All four bankers will use technology to meet and serve customers in a variety of settings, some more private than others. The interior won't have the appearance of a bank branch as we know it; the space is designed to give consumers a more relaxed feel and more face-to-face contact with employees.
Tablet computers will encourage a more direct and personal way of serving customers. There will also be a tech wall with a dynamic digital screen.
The new branch is the future of how Fifth Third will engage with our clients, according to Tommy Lloyd, senior vice president and retail executive for Fifth Third Bank.
"The branch design focuses on an open environment equipped with the latest technology aimed at delivering personal customer service to provide the best experience and advice for our clients," he said.
The branch bank of the future is coming, and at least some tellers may go the way of gold-backed currency. Once-essential functions like cashing checks and taking deposits can occur just as easily online at home or from the office.
The new Fifth Third branches are intended to encourage financial conversations, while transactions become more self-serve.
No teller windows
Rather than having teller "windows," the new space gives employees the freedom to move around the lobby.
Flexible meeting and seating areas, with layers of privacy that can adjust depending on the need and the type of conversation taking place.
While there will not be a commercial lender on-site, our branch teams work closely with all of their bank partners including commercial, business banking, wealth management and mortgage.
Rest assured car-lovers, it will have a drive-through.
PHOTO: A Fifth Third Bank Next-Gen branch. Photo by Daniel Boczarski/Getty Images for Fifth Third