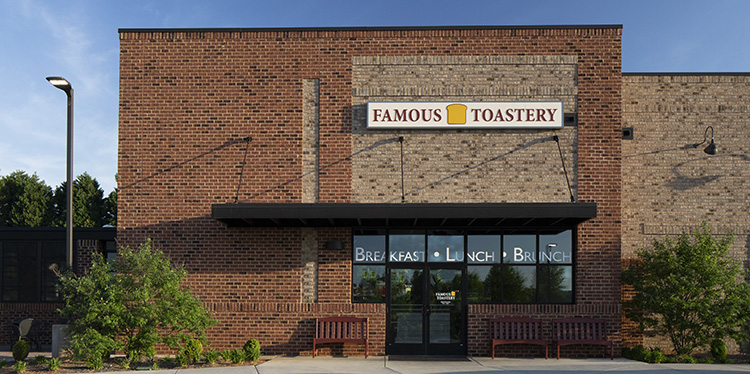 Dec. 10. By Dave Vieser. When best friends Brian Burchill and Robert Maynard opened their first Famous Toastery's store back in 2005 little did they know their "cozy" breakfast spot in a small house turned restaurant in Huntersville would grow into 34 busy locations throughout the US, including 21 in North Carolina. With plans for a new store to open early next year in Concord, to complement their Concord Mills location, these are hearty times for Famous Toastery.
Maynard says their success stems from keeping their quality high.
"We've never sacrificed the food quality; we use the best ingredients you can get. People say that all the time, but we actually really do. Also, we treat our employees right and help give them career paths to grow with us and transfer across different restaurant locations," Maynard said.
Famous Toastery has a no-fryer/no-heat-lamp policy, especially when it comes to the thick-cut black label bacon.
Maynard and Burchill are both natives of New York. Burchill's experience spans 15 different restaurants in New York, including E.A.T. under the tutelage of New York food guru Eli Zabar.
Famous Toastery evolved into a franchise system in 2013, as news about their fresh-made breakfasts and fun atmosphere spread. The concept spread quickly serving new and loyal clients dishes such as made-from-scratch banana and peanut butter stuffed French toast and avocado omelets.
Today, they employ about 1,250 people nationally, including some 800 in North Carolina. Employees are well trained and move quickly. Orders are taken at the tables on I-pads by the servers and transmitted to the kitchen immediately. Every server also pitches in to run food, fill drinks, and replenish coffee. Most orders are filled within 5-10 minutes. "I like to say every server is your server because it's true" Maynard added.
The better-breakfast brand continues its national expansion, on pace to have 55 locations by the end of 2019.
"We've never lost sight of our roots. We are based in Davidson and keep our roots close to the heart. We don't consider ourselves a chain, we just consider ourselves a local group. We don't try to be somebody we're not. We just offer a great breakfast, live our 'Ever Server is Your Server' motto, and try to do a really good job at what we do. That's helped us do so well."
What's ahead for Famous Toastery? They will be opening stores in Steel Creek, Denver, Lake Wylie and Mountain on the Lake next year along with the Concord location.
All of these will be opening in the first or second quarter of 2019. They also recently launched online ordering, which is expected to expand next year too.
Potential franchisees must have $250,000 in liquid cash and a net worth in excess of $500,000.