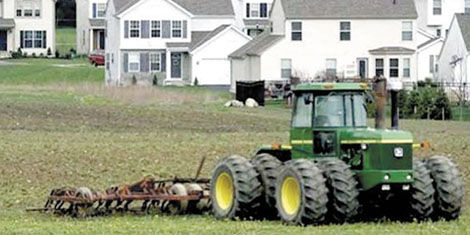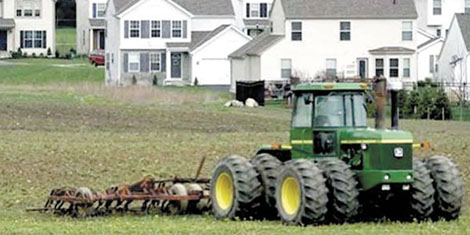 By Dave Vieser. A ride on Poplar Tent Road from Highway 73 to Cox Mill Road in Cabarrus County provides a striking visual picture: Thousands of acres of land that just a few years ago were either farms or forest are being developed to accommodate new housing developments. In some instances, zoning had to be changed to permit the projects to begin.
On the wings of a strengthening economy, the new homes and their owners generate added jobs for the region, and, in turn, a significant increase in the need for local retail stores and services. Of course, not everyone is pleased to see open space disappear.
Cornelius Town Commissioner Dave Gilroy, a business owner himself, says there is a "very delicate balance to strike" between rural preservation and land development rights.
"We have been working hard on it for a dozen years, and while not always getting it right by any means, we pursue both objectives—development and preservation of quality-of-life—in good faith. One key is having the discipline to just say no in many cases. The market will bring us all kinds of development, from very low-quality projects in the wrong area, invasive to neighbors and destroying beautiful, adored landscapes in sensitive areas on our east side, too much better ideas," said Gilroy, managing partner of Scale Finance.
For example, in January, the Cornelius Town Board approved a zoning change for a 58-acre split parcel near Bailey Road and Hough High School. The developer, Bluestream Properties, seeks to build 78 single family "adult living" homes, where at least one resident in each home is 55 years of age or older.
The developer said tried to get the land rezoned for six years.
The property is located in the town's extra-territorial jurisdiction, meaning that zoning is controlled by Cornelius. The area is comprised of mostly rural property, and was the subject of an intense debate last year before the town adopted a land use plan, which suggests but does not require certain density for future developments.
"We were deeply disappointed that the Cornelius Town Board approved the zoning change" said Joan Boon, who built her home on a 2.8 acre parcel in the Barnhardt/Bailey Road area in 2004. "It surrounds our rural property with a subdivision on three sides at a density much greater than two previous proposals for this land." Boon says she is also concerned because of what the rezoning says more broadly about how the Town Board values the views of individual citizens vs. developers.
Prior to the vote, a lengthy public hearing was conducted by the town board, which typified the dilemma planning and zoning officials face in many of the Golden Crescent rural areas.
In the Cornelius case, the developer's representative Jake Pallilo urged the board to approve the zoning change, while Boon, speaking on behalf of 17 neighbors, strongly opposed the development.
According to the town's planning director, Wayne Herron, Bluestream is proposing a 78-lot, single-family subdivision with approximately 50 percent open space interspersed in different areas.
"The site is surrounded on all sides by land that is rural in nature," Herron said, "which supports low density single family residential. Hough High School is to the north across the creek." The developer was seeking to change the zoning from Rural Preservation (RP) to RP Conditional Zoning.
Pallilo reminded the board that he's been trying to get the land rezoned for six years without success. "Our company continues to give back and give back to the Town of Cornelius while we try to get this property developed."
Cornelius Mayor Chuck Travis, a noted architect, says the first step in good development is a Land Use Plan.
"If used correctly, this plan will be a guide to help preserve our more rural areas as well as set expectations for land owners regarding what the Town Board will support for development," Travis said. "Fulfillment of this vision will require leadership that is committed to following principles with the big picture in mind and not continue to approach development with a myopic mentality for individual parcels."
Boon was especially disappointed that the board didn't pay more attention to the Land Use Plan adopted last year, which suggests but does not legally require density levels in certain parts of the town. She thinks she knows why.
"Our thoughts and time were ignored for one reason – the Board's favorable sentiments towards Bluestream Partners' primary equity partners, Bill and Ericka Cain," said Boon. The Cains are major employers in Cornelius, the founders of Financial Independence Group and major developers as well, having backed the Bailey's Glen "active adult" community between Highway 115 and Bailey Road.
Commissioner Washam and others talked about all that the Cains do for the town, and talked about how they are 'good people'.  To us, this signaled that this Town Board approved the subdivision not because of its merits but because of their positive impressions of the Cains," Boon said.
In Cabarrus County, Chairman Steve Morris said the Board of Commissioners has tried to balance development against protecting rural and farm areas while still growing the tax base with new industrial and commercial growth.
A combination of county-wide land use plans, present use and wildlife preservation tax deferment programs, conversation easements and agreements on the areas that will not be targeted for water and sewer extensions are all tools used to direct development and preserve open space.
The county even grew a farm. The Elma C. Lomax Incubator Farm offers training and hands-on experience for individuals interested in starting a business as a farmer in Cabarrus County.
"Developers are naturally attracted to those areas where infrastructure is already in place. None of our efforts to protect our rural character conflicts with developer's ability to be successful in the county," Morris said.
The biggest challenge comes from explosive residential growth which requires funding for facilities to accommodate the increase of students in Cabarrus County and Kannapolis school districts.
Gilroy said government's job is first and foremost to protect and promote the quality of life for residents. "We are the caretakers of quality of life, above all, and thinking creatively and carefully about development is critical," Gilroy said.