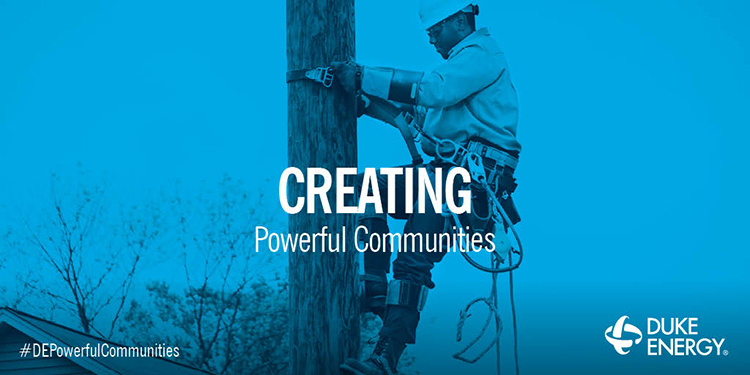 Duke Energy is investing more than $3.6 million to help create a diverse workforce. It has announced grants to support 54 innovative workforce development programs including one in Mecklenburg that exposes disadvantaged students to career opportunities in the energy sector.
"Our goal is to build a diverse workforce equipped to help the energy industry transform the grid and innovate to meet customers' needs," said Cari Boyce, president of the Duke Energy Foundation. "The energy sector generates an abundance of well-paid, dynamic jobs, and we want to ensure nontraditional students have access to these opportunities."
The 2019 Powerful Communities grants, from the Duke Energy Foundation with support from Piedmont Natural Gas, aim to bolster programs serving under-represented, low-income or diverse audiences, including women and minorities.
Helping Orient Minorities to Engineering (HOME) at North Carolina A&T State University invites academically gifted incoming freshman to spend the summer prior to entering the university immersed in a "deep-dive" into the rigors of earning an undergraduate engineering degree.
"Duke Energy Foundation's investment in our HOME program allows us to continue the College's tradition of exposing a distinctive cohort of incoming engineering and computer science freshmen to tailored educational and professional development," said Dr. Robin N. Coger, dean of the College of Engineering at North Carolina A&T State University.
Other regional grants include Piedmont Community College Strengthening a Rural Workforce with Technological Training Support welding education and increase the number of students with welding certificates, strengthening the local workforce. Duke also supports the welding curriculum at Piedmont Community College
The grants are part of Duke Energy's Powerful Communities philanthropic program, which awards strategic charitable grants to nonprofit organizations working to build powerful communities by bolstering education, developing the future workforce of the energy sector and conserving and protecting our environment.
In 2018, Duke Energy Foundation invested more than $31 million to support communities throughout Duke Energy's seven-state service area.
The Duke Energy Foundation provides philanthropic support to meet the needs of communities where Duke Energy customers live and work. The Foundation contributes more than $30 million annually in charitable gifts and is funded by Duke Energy shareholder dollars.
Duke Energy was named to Fortune's 2019 "World's Most Admired Companies" list, and Forbes' 2019 "America's Best Employers" list.
"Duke Energy Foundation's investment in our HOME program allows us to continue the College's tradition of exposing a distinctive cohort of  incoming engineering and computer science freshmen to tailored educational and professional development."
—Dr. Robin N. Coger, Dean, College of Engineering, North Carolina A&T State University