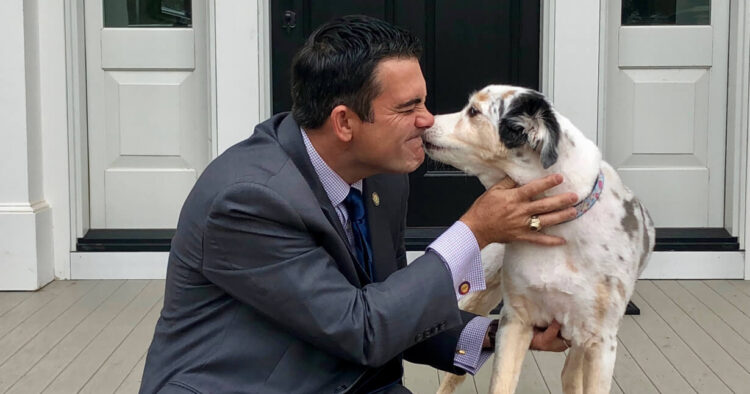 July 6. By Dave Yochum. Call it an Amber Alert for pets. John R. Bradford III, founder of Mooresville-based PetScreening and a member of the North Carolina House of Representatives, hopes to help lost pets find their way home.
A free service for pet owners—FidoAlert for dogs and TabbyAlert for cats—is building a nationwide network of pet owners to communicate when their best friend is missing.
Millions of dogs and cats are lost or stolen nationwide every year, according to the American Humane Association.
Users input their phone numbers online as well as additional emergency contacts and information about their pets. PetScreening sends a free aluminum tag with a QR code that anybody can scan to help unite the pet with its human.
Bradford, an animal lover, has 1 million tags ready to be engraved.
Text alerts
The Cornelius resident said proprietary technology dispatches text alerts with identifying information and a photo of the pet to all registered users within five miles of where the pet was last seen.
"Once registered, if a pet owner loses their pet, they can initiate a lost pet alert that sends messages to everyone in the FidoAlert and TabbyAlert Network who are within five miles of the location where the pet was lost," Bradford said.
The text alert includes the lost pet's photo and other helpful information to create near-instantaneous awareness about the lost pet.
When someone finds the pet, the owner and their emergency contacts are notified via text, Bradford explained.
Free service
What the woof, how is it free?
Bradford said profits from PetScreening will underwrite the initiative.
The infotech company has more than 1.6 million users nationwide that will be notified of FidoAlert and TabbyAlert later this year. About 130,000 of them are in North Carolina.
PetScreening, which was borne out of Park Avenue Properties, a real estate management company Bradford also founded, helps residential and commercial property companies become more pet-inclusive.
"We stand firm behind our commitment to never charge a pet owner to help their lost pet find its way home. That money, instead, could be used by a pet owner to offer a lost pet reward," Bradford said.
• How to sign up: Go to FidoAlert.com or TabbyAlert.com