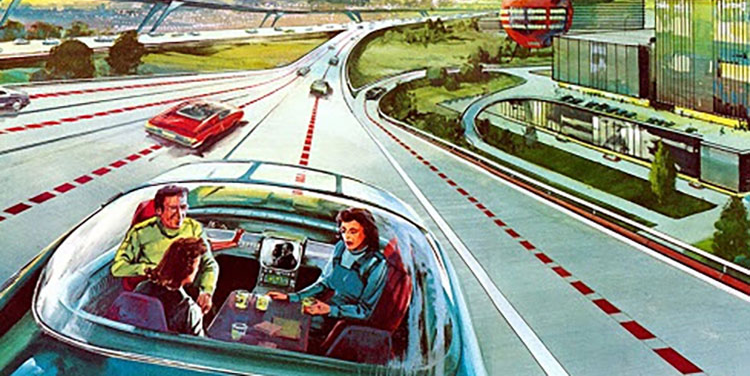 It's 2029 and you're sound asleep cruising at 75 mph to a mountaintop getaway in your first autonomous vehicle, a Jaguar XJ, which looks futuristic and classic all at the same time, and performs beautifully, thanks to Tata's brilliant designers and programmers in India where most of the population practices Hinduism. Suddenly there's a cow in the middle of the road, and a cliff on one side and a sheer wall on the other side. What do you think the programmers were thinking back in Mumbai? When it comes to accident avoidance, are there sacred cows?
By Dave Yochum.  Jan. 14. Autonomous cars are on their way here, with interesting and perhaps unexpected consequences for everyone from auto dealers to insurers, not to mention NCDOT.
"Conceptually I believe there is great enthusiasm for autonomous driving because it may be able to greatly lower the risk of auto-related accidents," said Jack
Salzman, owner of Lake Norman Chrysler Dodge Jeep in Cornelius.
He suggests we're are "at least a decade or more" away from every vehicle on the road having autonomous capabilities once you factor in the current average age of all vehicles on the road today is over 10 years old.
This statistic probably won't lower much because the average price of new vehicles is rising with the added technology. This puts autonomous vehicles at a crossroad with affordability as well as practicality.
Picture an autonomous vehicle backing your boat trailer into Lake Norman, or slowing down so that you can wave to a friend biking on a multi-use path.
Ten months ago one of Uber's self-driving cars killed a pedestrian in Tempe, Ariz. The Autopilot feature was turned on when a Tesla Model X SUV slammed into a concrete highway lane divider and burst into flames last March. The driver, Wei Huang, died shortly afterwards at the hospital. Just last month, police chased a speeding Tesla Model S, apparently on auto-pilot, for seven miles while its "driver" slept.
How do autonomous vehicles handle non-conforming environments? What happens when humans try to cross the road outside of a marked crosswalk? How will the computer in the autonomous vehicle process that information?
In a 2015 story in Contingencies, an insurance industry journal, writer James Lynch said Volvo expected to have its self-driving autos for sale in 2017.
While the Swedish automaker has tests under way now, its latest autonomous-car design, the 360c, won't be ready until 2021, when there will be plenty of 2011s, and older, cars still on the road.
"I think affordability and compatibility with older cars on the road will the biggest challenges to a 100 percent autonomous vehicle marketplace," Salzman said.
Nevertheless, the optimistic Swedes says their autonomous cars will compete with passenger jets, specifically for short hops from places like Charlotte to Atlanta to Washington D.C., or New York to Washington D.C., or Houston to Dallas, or Los Angeles to San Diego.
Short hops are more time-consuming by air than by car when including things such as travel to the airport, security checks and waiting times, Volvo said in a news release.
Their cars will come in several versions—a sleeping pod, mobile office, living room and entertainment space—enabling travelers to spend their time en route as they wish. Headroom has new meaning when one contemplates dancing between Atlanta and Charlotte.
"There are real-life situations where people tow boats, go to Home Depot and overload their vehicles with items that stick out the windows or bed of truck," Salzman said.
How does this affect autonomous driving and the American way of driving when, where and how you want?
Meanwhile, insurance industry veteran Denis Bilodeau, who runs the Hood Hargett office in Cornelius, says the younger generation is far less attached to the automobile. They're more inclined to be satisfied with Uber, Lyft and a motorized scooter.
"It's a geeky insurance thing to be thinking about," he says, explaining that liability in an autonomous future shifts from the motorist to the manufacturer.
There will still be a need for liability coverage, Bilodeau says. But over time the coverage could change, as manufacturers and suppliers—even municipalities—take responsibility for the accidents which are bound to happen.
"When you think about eliminating distracted driving, drunk driving or falling asleep at the wheel—basically error in judgment while driving—this is exciting," Bilodeau says.
Actually, insurance has morphed along with automotive technology over the years. There have been gradual safety enhancements like tempered glass, padded dashes, seat belts, 5-mile-an-hour bumpers and gradual steps toward autonomous vehicles like blind-spot monitoring, forward-collision warnings and lane-departure warnings—options that are standard or available on higher-priced models.
But the Highway Loss Data Institute says it could take three decades for 95 percent of all registered cars to be equipped with crash avoidance systems.
Forward-collision warning systems have been available since 2000, but if they follow their current slow upward trend, they will not be available in most cars until around 2050, according to the institute.
Is it time to unload your classic Vette because it's just not compatible with autonomous vehicles and smarter highways?
According to the Insurance Institute for Highway Safety, it is anticipated that there will be 3.5 million self-driving vehicles on U.S. roads by 2025, and 4.5 million by 2030. It's a drop in the bucket.
Hedges & Co., the Ohio-based digital marketing agency serving the automotive aftermarket, says there were 276.1 million registered vehicles in the U.S. last year, with 281.3 million projected in 2019.
Tesla, a leader in the world of autonomous vehicles, accounted for a grand total of 141,000 U.S. vehicles through Jan. 1, of 2018, with 45 percent of them owned, registered and driven in California, where all things start, and make their way to the rest of the country.