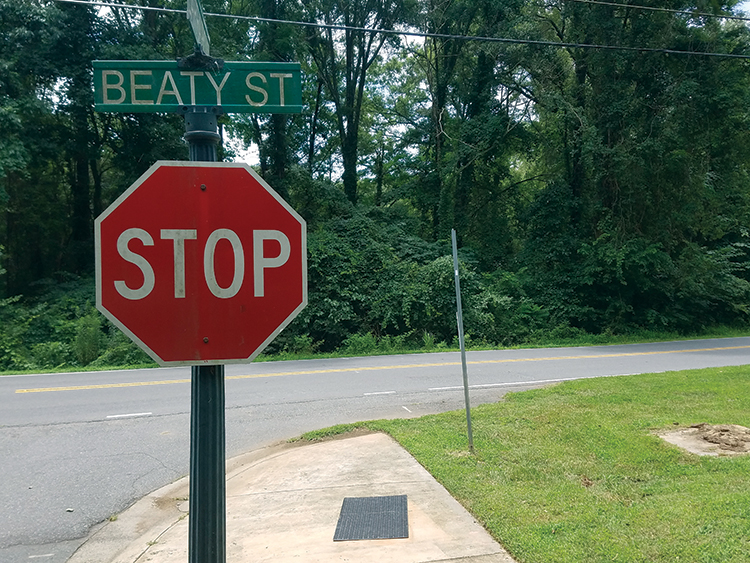 July 10. By Sam Boykin. The town of Davidson currently has about 20 development projects that are either approved, pending approval or under review.
That amounts to 2,000 new residential units, from single-family homes to apartments to condos, along with mixed-use developments, a hotel, and municipal buildings.
For a town that has garnered national recognition for carefully controlling growth through moratoriums and tightly enforced regulations, this is remarkable.
Some critics claim that town officials are sacrificing Davidson's small-town charm for property development tax dollars.
But Davidson leaders say they are doing their best to balance the rights of property owners with the area's noted quality of life, all while facing tremendous market pressure.
Paying for a mistake?
A backdrop to all this is Davidson and Mooresville's MI-Connection deal—which many believe is a primary driving force behind all the new development. The two towns spent $92 million in 2007 to form the cable business, which replaced the now bankrupt Adelphia Communications.
While cable service in the area has improved, the company is losing money, and Davidson and Mooresville have had to come up with millions of dollars to cover a budget shortfall at the system.
During the 2010-2011 budget process, the towns were told the subsidy needed for the upcoming fiscal year was $6,460,000. Davidson's 31% share amounted to $2,019,000 (more than 10% of the town's budget). As a result, Davidson had to lay-off staff and cut on services.
And debt payments continue to stress the budget. Currently, the 2018 budget projects the towns' subsidy to be $2.9 million. Davidson's 30% portion is $879,311 and Mooresville's 70% is $2,051,727. Since Davidson's subsidy portion is less than $1 million, the remaining $120,689 will go towards paying down the $2 million balance Davidson accumulated and owes to Mooresville.
Based on budget figures, for the year ending June 30th, 2018, the total subsidies paid by the towns from 2010 – 2018 will be over $40.7 million. Mooresville will have paid $28.2 million and Davidson will have paid $12.5 million.
Now, 10 years after the deal was first made, many Davidson citizens are adamant that they want the town out of the MI-Connection deal. Will new development pay for it?
Stunning growth all around
Like other cities in north Mecklenburg and southern Iredell County, Davidson has experienced explosive growth over the past few decades.
But even as Davidson's population has grown from about 4,000 in 1990 to 13,000 today, it's still relatively small compared to neighbors like Cornelius (about 29,000 residents) and Huntersville (55,000 residents).
Moreover, Davidson's charming downtown, bucolic countryside, and family-friendly lifestyle have remained largely intact. But there's no question the town is changing fast, with both big commercial projects, as well as residential.
"Overall, we've done a relatively good job of staving off the steam shovel that has changed the look of so many other communities around here in the last 20 years," says Rusty Knox, a longtime Davidson Realtor, who is running for mayor this fall. "We're still grasping at our small-town core that we've bragged about all these years, but I see an expeditious freight train of development being unleashed right now and I don't like it."
Jason Burdette, Davidson's planning director, acknowledges that the town is facing a number of challenges as it tries to keep pace with the changing times. "Our commitment to our core values and planning principles hasn't changed, but the market around us has changed, and the pressure around us has changed," says Burdette. "We've tried our best to uphold the values of smart growth in the face of all this pressure, but it's hard. You want to balance property rights with quality of life; sometimes those align and sometimes they don't."
As the Lake Norman region began to experience sprawl and growth, Davidson, adopted zoning ordinances in the late 1990s to help promote connectivity and pedestrian-friendly developments.
These ordinances required new buildings to be constructed near streets, additional sidewalks and open spaces, as well as more roadways between the towns. In addition, Davidson enacted a series of moratoriums for the thousands of rural acres within its ETJ (extraterritorial jurisdiction) in order to put the brakes on sprawling development.
A plan for more growth
Last year, Davidson approved its new Rural Area Plan, which encompasses nearly 4,000 acres between its corporate limits and the Iredell and Cabarrus County lines. Burdette says the plan, which incorporated community feedback over an 18-month period, provides the blueprint for Davidson development over the next 30 years, with an emphasis on pedestrian-friendly, mixed-use nodes, improved street connections, and open space.
Within the Rural Area Plan are new projects like the 170-acre West Branch development on Davidson-Concord Road, which Burdette says is likely to have the most immediate impact on the population. The project calls for hundreds of residential units, along with a future commercial component at the intersection of Davidson-Concord Road and Robert Walker Drive.
Burdette says the town is ensuring that new developments like West Branch have greenway connections, ample open space, parks, expansive sidewalks, and compact retail components. "Those charming downtown characteristics shouldn't be reserved solely for historic downtown Davidson. We're doing our best to replicate that feeling elsewhere."
Beaty Street meeting Tuesday
Another notable project is Luminous, situated on a baeutiful 19-acre tract of land along Beaty Street. The controversial project has gone through multiple revisions, most of which call for a mixed-use development with a park, shops, restaurants, a hotel, and a variety of residential units. The Davidson Board of Commissioners is working with Davidson Development Partners on this project, which is tentatively scheduled to present a third plan for Luminous during a July 11 meeting.
With the rate at which people continue to move to the area, Davidson officials predict the town's population will double in 20 years. It's a trend that Knox hopes to slow down if elected mayor by restricting residential growth and focusing more on commercial development. "More residential just means more cars and gridlock," he says. "I'm not anti-growth, but I think the pace at which we're growing right now is alarming."
"It's easy for people to say things like we should stop all development," counters Burdette. "But we live in a practical reality where we have to balance property rights with the interest of citizens. The town is a steward of the planning ordinance, which is reflective of the community's input over many years. We've created this pretty fantastic place and we don't want to jeopardize that."