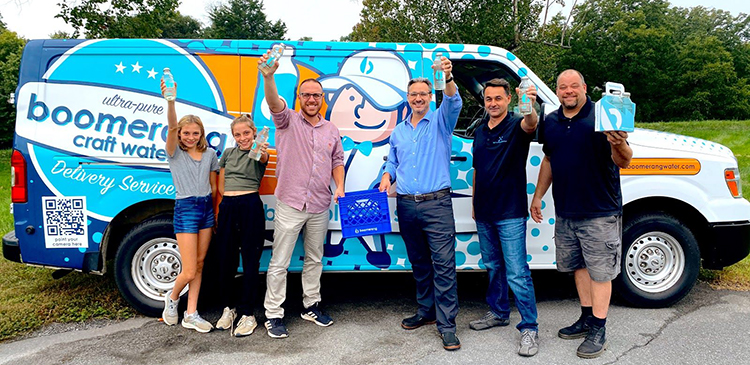 Sept. 25. Boomerang Water, a craft water subscription service based in Davidson, will launch in early October in 5,000 square feet with six employees.
And $3 million invested so far, according to founder Jason Dibble.
Eliminating single-use plastic
The company's mission is to eliminate the need for single-use plastic water bottles. Starting Oct. 1, subscribers located in Davidson and surrounding areas will be able place orders for a milk-man style pickup and drop-off service of high-strength refillable glass water bottles. The company also plans to add an aluminum bottle option within the year, Dibble said.
The start-up is the brainchild of US military veterans who became aware of the global impact of single-use plastic water bottles while on multiple deployments in Iraq and Afghanistan from 2003-2007.
"More than a decade later, the team at Boomerang Water has finished development of a small batch bottling system that utilizes ultra-filtration methods to create arguably the freshest and smoothest water on the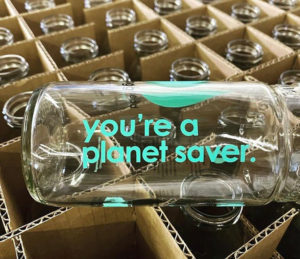 market," said Dibble, an Air Force veteran.
5,000-plus bottles a day
In addition to eliminating unnecessary plastic consumption, Boomerang Water prides itself on its minimal total carbon footprint. The company sources water locally and utilizes sustainable bottling and packaging materials, reducing overall transportation emissions and energy consumption.
"The unique thing about us is our technology, given we have a bottling plant the size of a commercial dishwasher and start of the art ultra-filtration, we built a clean room in a shipping container and can push out 5,000-plus bottles a day," Dibble said.
H20 yeah
The startup will begin delivering sustainable glass bottles filled with sub-micron ultra-purified water in quantities of 16, 32, or 64 bottles per month on a flexible subscription basis. Just like the old-fashioned milk-man, Boomerang Water will pick up subscribers' cases of bottles when empty, refill locally, and re-deliver fresh water monthly.
Boomerang launches with one truck that can handle roughly 50 deliveries a day, 15-20 days per month. The company will only offer an initial 250 subscriptions available for local Davidson, NC residents with plans to expand into Cornelius and Mooresville by the end of 2020.
Boomerang has a total of six employees including Dibble, and a partner, four of whom are veterans.
Prices start at less than $25 a month for one case of bottled water; four cases (64 bottles) run just under $60.