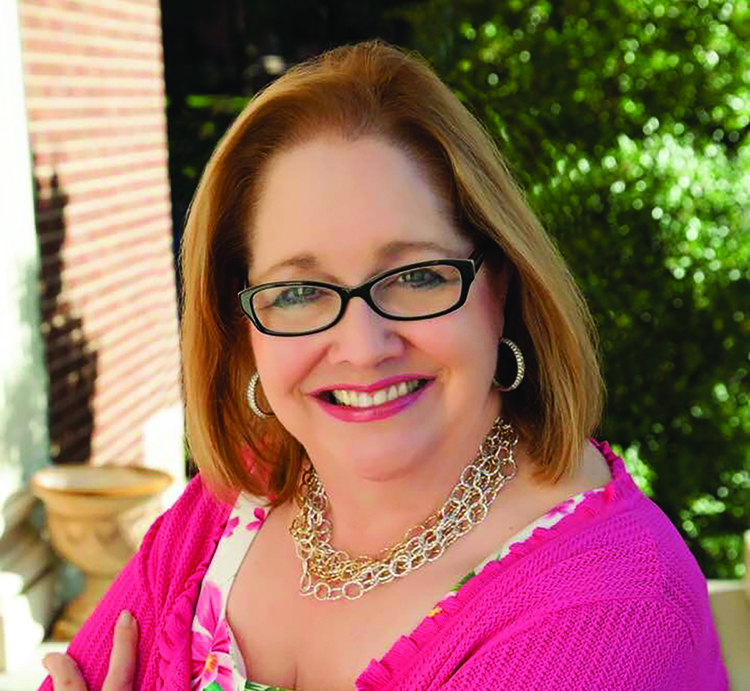 By Beth McLaughlin. Grace and poise—they're the trademarks of a former Miss Connecticut and Miss America contestant, as well as qualities and titles belonging to Concord's Dakeita Vanderburg-Johnson. They are two of the traits that have allowed her to reinvent herself after divorce, a business failure, and a what could have been a devastating health crisis.
Vanderburg-Johnson has been honing her skills at reinvention since graduating North Carolina State University with a degree in textile technology and textile design. She had an eye toward going to work for then-Cannon Mills in Kannapolis. It was 1979. The untimely death of her father, Hayden Vanderburg, that same year, prevented her from pursuing her passion, as she was needed to help run the family business, Locust Hardware in Stanly County. Her father had bought the small hardware and building supply company in 1960, and she felt she couldn't turn her back on it.
"I never got to use my degree," she said.
The first reinvention
Instead she joined with her mother, Dartha "Mama Dot" Vanderburg, in running Locust Hardware for over 20 years. But in 2000, the Department of Transportation needed the store's property for a road widening project.
So together Dakeita and Mama Dot reinvented Locust Hardware into Southgate Masonry and Lumber in 2000, near the intersection of N.C. 49 and U.S. 601.
The new business was a dream come true. The former company was housed in a quaint, if not downright historic, run-down facility. When it rained the toilets wouldn't flush. There was no hot water, ever. The only touches Vanderburg-Johnson said she missed were the tin ceiling and the creaky wood floors.
They opened in 2001. "For the most part, it was glorious," she said. They sold bricks, lumber, and building supplies and did a booming business. They were closer to their customer base, closer to home, and business was good. Mama Dot worked side-by-side with her daughter until three weeks before her death in 2010, at the age of 84.
While everyone mourned the matriarch, business stayed strong. Vanderburg-Johnson employed some family members, but the whole team felt like family. The customers even felt like family, she said. At its height Southgate employed about 27 people.
"The relocation was wonderful for the bottom line," she said. "The economy was incredible."
The Great Recession
"In some ways we did not feel the start of the recession until the spring of 2008. This region was one of the last to go into the downturn. One day I said out loud, 'Is it me, or are the phones not ringing?'"
She watched as she saw good customers shutting down and going out of business.
"I felt a sense of helplessness." On one hand, she was sorry for her loyal customers— builders—who were going under. "And on the other hand, I had employees who were like family, who had families of their own to support, and all I felt was a sense of stress."
She desperately did not want to let her employees down, but she had to start laying workers off and implementing cost-cutting measures.
Through that whole period she maintained a sense of hope: "This area has always had something to bring it back after hard times."
But there was nothing to bring Southgate back from the brink.
"Our area was one of the last to go into the recession and one of the last to come out."
Several of her vendors became competitors and began selling directly to her customers. She didn't like it, but she understood it, she said. "It was survival of the fittest…I had some loyal vendors who didn't do that. That had always been part of our success, the ability to partner with businesses."
It wasn't until the summer of 2014 that Vanderburg-Johnson realized her family business was going under. "So much of our business depended on the weather. I knew if we were going to have a bad winter we'd be slamming the door shut instead of methodically closing down. I laughingly looked at Farmer's Almanac to see which it would be."
In August of 2014, it was time to start methodically closing down. "Looking at the cash flows, I had to make the decision. We still had 17 employees and then our focus was on helping everybody find a job. Most of our former staff are still local, working as truck drivers, sales associates and sales reps with other companies."
Vanderburg-Johnson even had to give her stepdaughter a pink slip. The young woman spent so much time going back and forth trying to decide what type of job to pursue that Vanderburg-Johnson said she had to lay her off to get her moving. "It was a tough love situation. It was hard to do."
But the 28-year-old is now a sales associate with General Shell Brick in Greenville, SC, Vanderburg-Johnson said with pride.
Meanwhile, back in 2006-2007
About that stepdaughter, and more reinvention, back in 2006 and 2007, Vanderburg-Johnson's business was booming, but her marriage was falling apart.
That was a tough transition for her, but Dakeita learned from her pageant days to always hold her head up, even if she didn't know how. Her single status didn't keep her down, and it didn't last long.
She was fixed up on a blind date to the NorthEast Medical Center Foundation's annual gala with a man named Steve Johnson, and romance blossomed. They married in 2008.
Today she has a great relationship with her ex-husband, and her ex is even good friends with her current husband.
She explains it simply and casually: "Faith plays a big part in my life. So through all of these things, I went to my faith and drew strength from my faith."
The next reinvention
In January 2015, as she was wondering what she was going to do with the huge building that housed the company, kismet intervened. "A man I've known all my life, Steve Barnhardt, from Mount Pleasant, showed up and said, 'I hear you're wanting to sell this place.'" Vanderburg-Johnson auctioned off the last of the building's contents on Valentine's Day, 2015.
Barnhardt took ownership of the property after the auction and opened Overdrive Rebuild, where he and his crew rebuild transmissions for heavy equipment.
"It was a real blessing," Vanderburg-Johnson said.
The hardest times were the last months of 2014. "They were literally the toughest times. It was like a death. Grief… All these things go through your mind: What are people going to say? I've let my parents down. I've let my children down. I've let my employees down. How am I going to hold my head up?"
But Vanderburg-Johnson had an ace up her sleeve. She had her family, her friends, her faith, and most of all, her attitude.
"I wake up in the morning and my glass is half-full. I may go to bed at night with it half-empty, but I wake up with it half-full."
The divorce was like a death. The business failing was like a death, but by February that year, she had gotten beyond all that, she said. She got her daughter to help her write a resume, and she proceeded to look for the next opportunity.
It was in July of 2015 that Diane Honeycutt, a star Realtor/team leader for Allen Tate, sent out an email to several friends and associates that she was looking for some new sales talent for her team.
"Within five minutes of her sending out that email, six different people forwarded it to me," Vanderburg-Johnson said. "The next thing you know, I'm on the phone with Diane saying, 'Do you think we can work together?'"
Vanderburg-Johnson said getting her real estate license was the hardest thing she'd ever done.
She took a class and failed the exam. A week later she failed the offered re-test. She was discouraged but determined, she said.
"A week later I was in another real estate class and I passed the test with a 98 on Dec. 23. I had exactly one day to get ready for Christmas."
She took the state licensing exam in January, passed it, and started work for Team Honeycutt on Jan. 16, 2016. Her first closing was in March that year.
Vanderburg-Johnson said she found the newer technology difficult, "But I forced myself to learn it. I couldn't believe how much I didn't know."
She said two clients—a father and daughter—confirmed her growing love for the real estate business. They were looking for a specific type of home that could accommodate the daughter's wheelchair.
"I started to learn how people with limitations negotiate their lives. This young woman always had a smile on her face. … A lot of times you can be sitting there and thinking things are pretty tough, but then you think, 'I've got it pretty good compared to a lot of people.'"
A set-back
It was Thanksgiving Day of 2016 that Dakeita had trouble getting the Thanksgiving turkey out of the oven. She had no feeling in her right hand. But it was a holiday and she couldn't be bothered with this minor symptom. "I decided I'd sleep on it."
When she woke up in the early hours to let her dog out she realized she had no control of her right side. She couldn't walk. She agreed to let her husband take her to the hospital.
"I'm here to tell you the best time to go to the emergency room is 4 a.m. on Black Friday."
Vanderburg-Johnson had suffered a stroke. She spent five days in the hospital, followed by seven days in a rehab center. She regained her capacities very quickly, she said, but she was out of work until January of this year. Her teammates at Team Honeycutt picked up her work, showed her listings, did her closing paperwork. She said she can't thank them enough for their support.
And now
Vanderburg-Johnson said she takes more time for herself. She has cut back on service projects, but she'll serve as president of NorthEast Medical Center Foundation next year.
She recently helped with Rowan Cabarrus Community College's first ever capital campaign. The board overshot its goal by 14 percent, raising over $8 million. The main area in which her life has slowed down is cooking. "Steve eats a lot of takeout now," she said with a laugh.
Advice from a pageant queen
Vanderburg-Johnson, throughout her career, has been involved in scholarship pageants as a coach, a judge and a contestant. She was Miss Connecticut in 1983, and with that title competed in the Miss America pageant the following year, when Vanessa Williams won the title briefly and was forced to give it back.
As a pageant contestant she honed some of her most valuable life skills, she said. In the interview process she learned to speak about anything to anybody. She learned multi-tasking, and she refined her poise and grace.
As a pageant coach, she always looked for talent in her young charges, as well as poise, grace and beauty, and she taught the young women how to best present the assets they already possessed, she said.
"I didn't want to change any of them. I just wanted to help them learn to present their best selves," something Vanderburg-Johnson knows from experience.