Sept. 14. Cornelius-based Meeting Street Homes and Communities is bringing a taste of the U.K.'s Lake District to Davidson. 
Ambleside at Davidson is on Lake Cornelius and has 1,000 feet of walking trails through the wooded landscape and along the waterfront amidst 14 single-family homes.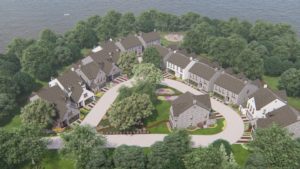 Prices start in the low-$700,000s up to the mid-$800,000s, according to Amy Niner with Meeting Street Homes & Communities.  Homes range from 2,265 square feet to 2,981 square feet.
The inspiration for the community comes from the picturesque town of Ambleside, U.K. It shares design and landscape elements with Meeting Street projects like Chipping Campden in the Eastover area of Charlotte. Meeting Street is also the developer of the Antiquity community in Cornelius.
Animated Community Tour: https://www.youtube.com/watch?v=VBL2KpoPytY