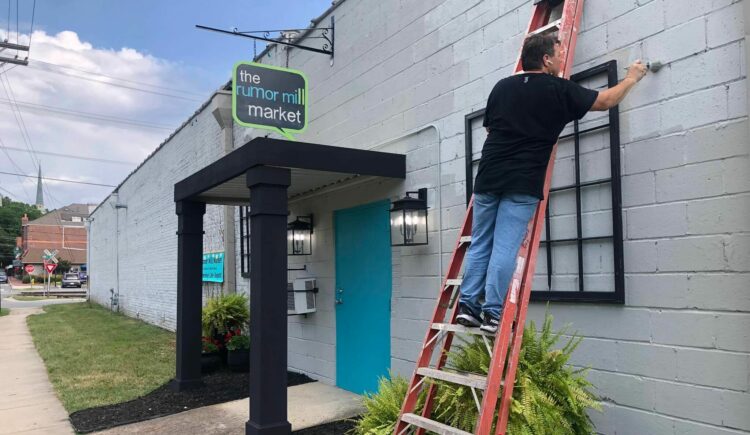 Aug. 10. By TL Bernthal. The Rumor Mill Market at 217 Depot St. in Davidson will reopen this month after a two-year hiatus.
When the owners — Janie and Scot Slusarick of Cornelius — closed the Rumor Mill Market on Aug. 28, 2020, they never imagined it would be almost two years to the day to re-open the furniture and home goods store.
They're located in the old Linden Mill, a brownfield remediation site poised for redevelopment.
In this case, the prolonged closing resulted from a building renovation by the then-landlord that went awry. A ceiling spray destroyed Rumor Mill Market merchandise and left the Slusaricks unable to open until now, Scot said.
"We wanted to reopen very quickly but the process with the insurance company dragged on," Scot said.
New focus: Furniture, decor
The new Rumor Mill Market will focus more on furniture and home decor than gifts. "We try to be different and have unique items," Scot says. "We look for cool, fun things at market."
Their sister store, Honeysuckle Home in South Main Square, remains the home decor and gift center. It is run by Janie and will remain open, as will another location in Elkin. The Slusaricks purchased assets from the now-closed Seasons at the Lake store in 2018 and opened Honeysuckle Home.
Background
Rumor Mill Market originally opened with 2,000 square feet in August of 2014, and grew to 7,000 square feet eight months later, and then a year later to 12,000 square feet, Scot says, making The Rumor Mill Market the largest retail shopping experience in Davidson.
"Our first concept was a vendor type booth system, which we are modifying this go-round as we trim down to open this time with approximately 6,000 square feet," Scot says.
"Featured on HGTV, written up in Garden and Gun and Our State magazines, we are bringing the fun and funky back to Davidson," Scot promises.
Scot, a remodeling contractor, recently retired from Alan Simonini Homes. He expects to be working full-time at Rumor Mill Market, along with scouting out the furniture markets with Janie for cool stuff.
Soft opening
A soft opening is planned for Saturday, Aug. 27. Store hours will be 10 am to 5 pm Monday through Saturday and 1-4 pm Sundays.