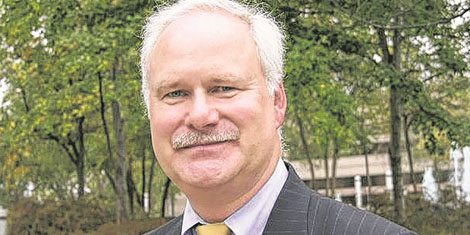 June 11. ANALYSIS. By Dave Yochum. Cornelius Mayor Chuck Travis chose June 8, "Town Hall Day" in the NC State Capitol, to express his personal views on widening I-77 to NC Sen. Philip Berger, the man who has so much to do with the ebb and flow of legislation in Raleigh.
It was a peculiar day for Travis to pick.
According to the NC League of Municipalities Town Hall Day is the League's "premier opportunity for members to visit legislators and make their views known.  Each legislative session, hundreds of elected and appointed city officials gather in Raleigh for an entire day of grassroots lobbying. Town Hall Day is a prime opportunity to show strength in numbers and draw attention to the many serious legislative issues facing cities and towns."
But maybe it wasn't peculiar at all. Travis knew he would have an audience.
Censured in December over I-77 
Travis was censured by his own town commission in December over his views on the current plan to widen I-77 between Lake Norman and Charlotte with tolls.
Mecklenburg County Commissioner Jim Puckett declared: "It will take much effort to overcome his traitorous behavior." Cornelius Commissioner Dave Gilroy says he will ask Travis, now in his second term, to resign.
Members of the non-partisan Cornelius Town Board, just like the boards in Huntersville, Mooresville and Davidson, as well as the Mecklenburg County Commission, have passed multiples resolutions calling for the cancellation of the NCDOT's $650 million contract with Cintra, a unit of a Spanish conglomerate called Ferrovial.
Chamber's strong opposition to I-77
The Lake Norman Chamber of Commerce has come out solidly against the toll plan, as well as what appears to be a vast majority of the general public. Public demonstrations—virtually unheard of in suburban North Mecklenburg—took place on the Exit 28 interchange in May this year and last year.
Regional leaders like Bill Russell, CEO of the chamber, and Mecklenburg County Commissioner Pat Cotham, a diminutive grandmother, took part, along with hundreds of ordinary citizens, people in wheelchairs, young parents, Iredell County residents and business owners.
But according to Sen. Jeff Tarte, a Republican like Travis, the mayors of Cornelius and Davidson led Sen. Berger to believe there were only 100 to 200 people opposed to the tolls.
Tarte said Travis and Davidson Mayor John Woods went to Town Hall Day "as mayors, representing their communities, and both advocating for continuing the project as is."
Despite visiting Raleigh on Town Hall Day, Mayor Woods said "at no time did I speak on behalf of the Davidson Board of Commissioners or the citizens of Davidson."
Renegade Mayor
Travis, sounding something like the Nixon White House in the summer of 1974, apparently told a TV news reporter that he will issue his own statement today.
Cornelius Commissioners, apart from Gilroy, are taking a wait-and-see approach, and aren't ready to openly discuss what to do about the renegade mayor. As the fine tuning of the town's budget should be front and center prior to adoption by July 1, they'e focusing on what appears to be an abundant lack of leadership.
The board has split with the mayor on other issues, too, not just I-77. Commissioners opted to defund their portion of the Lake Norman Transportation Commission, a regional transportation planning group that was oddly silent during the I-77 toll debate. Travis wanted Cornelius to stay in the LNTC as is.
Gilroy said Travis' attempt to sabotage House Bill 954 is over the top. In fact, the toll cancellation bill passed with an overwhelming, bipartisan majority in the NC House of Representatives.
"The mayor is running counter to the board, counter to the people," Gilroy said. "What team is he on? This was a radical departure from the town board's policy on record."
Tarte said he believed he had enough votes to pass HB-954 in the Senate. Now, no one is sure where the fight is, or how much damage was done, says Russell, CEO of the chamber.
Chamber is Ground Zero in toll battle
A Lake Norman Chamber meeting room has been Ground Zero for weekly strategy sessions with not just Lake Norman business leaders, but ordinary citizens on how to lobby support to cancel the Cintra contract. The strategy has been blocking and tackling, with drive after drive to Raleigh to meet with legislators one by one.
Chamber CEO Russell said if the 50-year Cintra contract stands, he will not leave Lake Norman a better place than when he came here two decades ago.
The League of Municipalities says Town Hall Day is all about facilitating individual conversations with hometown legislators, so was Travis' visit an abuse of his position? Interestingly, he ran unopposed for mayor this last time, but John "Mac" McAlpine, a descendant of a long line of Presbyterian preachers around Charlotte, said the mayor told him last year he was on the peoples' side. Based on that, McAlpine said, no one chose to run against Travis.
Tarte, another well-to-do businessman who is Travis' neighbor on the lake, said Travis has done a "disservice to our communities."
Is the mayor a good guy?
Is the mayor, a sharp-dressed man about five foot seven, a good guy?
One town commissioner responded carefully, and repeated the question: "Is he a good guy? I don't know. It depends on what you mean by a good guy. I think he likes to be in charge…in control, a little bit of a power broker. His intent overall is good."
But Town Commissioner Mike Miltich said if it's true that Travis has made comments in support of the project, "it is [in] direct violation of direction given to him by the Cornelius Town Board."
"Cancelling the contract has the full support of the Cornelius Board, and is being demanded by the majority of the voters in the Lake Norman area. Any comment that implies the opposite is simply untrue and unsupported by any survey," Miltich wrote in a letter to Sen. Berger.
So Mayor Travis's visit was like the Trojan Horse that went to Raleigh: Out popped a leader, diminished in stature, in whom members of his town board and many business leaders have less and less confidence.