By Erica Batten. Given its devotion to boosting health, it may seem ironic that organic juice bar Clean Juice is going viral. Since opening its flagship location in Birkdale Village in 2015, stores have appeared in Concord, Mooresville and Davidson, to name a few, and husband-and-wife team Landon and Kat Eckles have awarded franchises in more than a dozen states.
"2018 is going to be a crazy year for us," said Kat. "We have at least 60 stores opening, which is super exciting." The franchise fee to own a Clean Juice is $40,000 with 6 percent royalties and 1 percent to a brand marketing fund. It takes between​ $250,000 and $500,000 to open a store.
The Eckles say one of the core values of their rapidly expanding brand is maintaining a growth mindset.
"We are putting more resources into real estate selection and non-traditional sites, marketing efforts, and product development," Kat said. "There are always opportunities to be better."
One of the keys to Clean Juice's early success was the combined strengths of the young entrepreneurs. Landon had worked in management and real estate, where he gained valuable experience but was frequently away from his growing family. The Eckles have five children.
"I had spent the better part of the decade diving into the world of health and wellness, learning all I could, while also developing a love of branding," Kat said. Once they began developing the Clean Juice brand, the Eckles insisted on maintaining control of marketing, sales and graphic design.
Also on the list of non-negotiables was using exclusively organic produce. Otherwise, Kat said, she wouldn't be drinking any of the juices or smoothies from their store.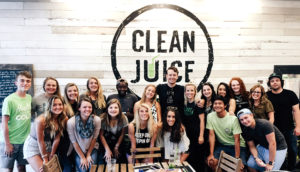 As it turns out, using organic produce is what sets Clean Juice apart from other juice bar franchises, some of which have been around since before Kat and Landon were born. Clean Juice is the nation's only USDA certified organic juice bar.
The juice bar industry has been bolstered in recent years by the slow food movement and increased media attention on the connection between diet and health.
For example, the 2010 documentary "Fat, Sick and Nearly Dead" chronicled one man's journey from obesity–coupled with an autoimmune disorder–to health after changing his standard American diet for one largely based on fruit and vegetable smoothies.
Today, juice bars are a $2 billion industry.​ Organic products are being embraced by millennials—the market for organic product​s is growing around 11 percent a year, nearly triple the growth rate of the overall food market.
The menu at Clean Juice includes fresh-made and bottled juices, smoothies and protein drinks along with "bites" like oat bowls and avocado toast. There is also a menu of one- to five-day juice cleanses. The cleanse menu includes the assurance: "All of our produce in all of our products is 100% organic. All of the time. Not 'mostly.' Not 'when we can.' Always."
Customers are also likely to encounter Bible verses on their cups or in other graphics. The Eckles' faith informs all their decisions, and the family attributes their success to God.
The stores are typically around 1,200 square feet and can seat 20 people. Most locations have outdoor seating as well. Metal chairs and reclaimed wood give the space a modern feel.
"We go for a clean, simple design that doesn't feel overwhelming or muddled," Kat said. "We want our guests to leave feeling refreshed, not just because they had a healthy, organic smoothie, but because they had a simple, refreshing experience in our store."