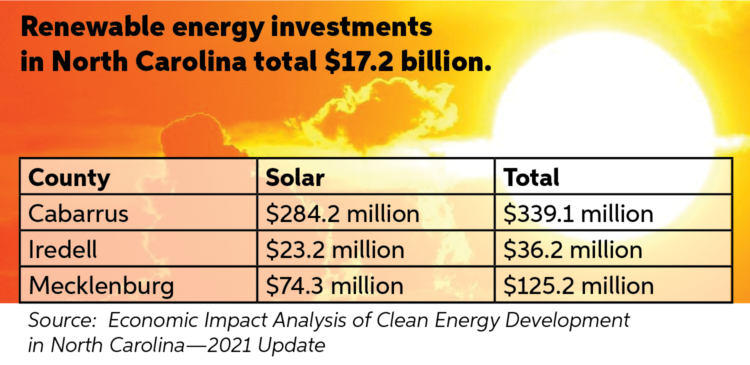 June 24. An economic impact study done by RTI International says the business of clean energy brought $40 billion to North Carolina over the last 14 years.
Renewable energy project investment in 2020 totaled $1.6 billion—more than 60 times the $26.2 million invested in 2007, according to RTI, which is based in Research Triangle Park.
About $22.5 billion was directly spent on clean energy development in North Carolina between 2007 and 2020.
Clean energy supporting 291,183 jobs between 2007 and 2020.
—For the break-down across all 100 NC counties, click here.
Economically challenged counties benefit
Some of North Carolina's most economically challenged counties benefit the most from clean energy development. Duplin, Robeson, Halifax, Edgecombe, Cumberland, Northampton, and Bladen counties experienced more than $500 million each in investment between 2007 and 2020. Forty-two North Carolina counties experienced over $100 million in investment.
RTI International, is a nonprofit research organization founded in 1958, has covered topics ranging from HIV/AIDS to education curriculum. The US Agency for International Development accounts for about 35 percent of RTI's research revenue.
Economic driver
Clean energy will increasingly become an economic driver for North Carolina, said Ward Lenz, executive director of North Carolina Sustainable Energy Association (NCSEA).
The Economic Impact Analysis of Clean Energy Development in North Carolina report is commissioned by NCSEA. The 2021 update captures results from investments made in 2019 and 2020. For a graphic with 2021 highlights, click here.