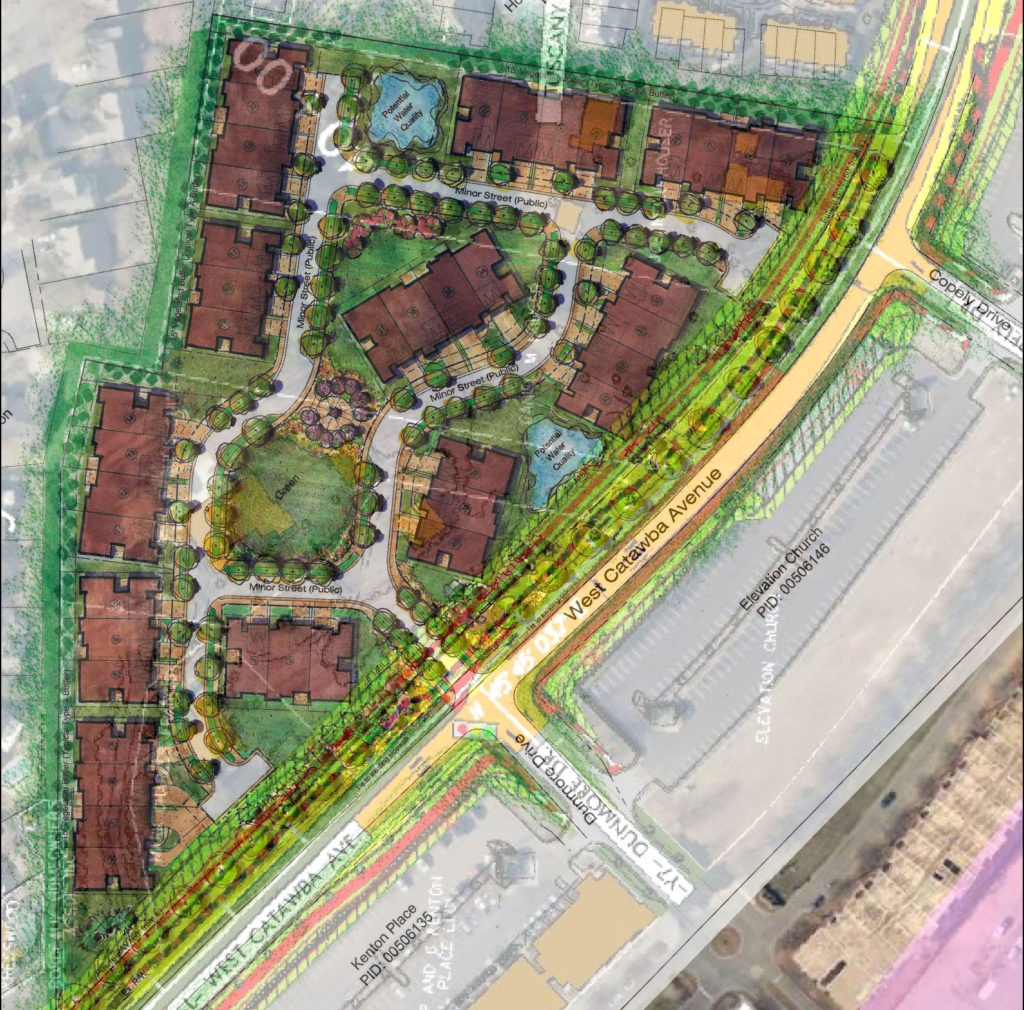 April 29. By Dave Vieser. Classica Homes has put its rezoning request for 40 attached, age-restricted homes on hold due to new information just received from the state DOT regarding the future widening of West Catawba. As a result, there won't be a public hearing or any decision on their application at the Monday May 2 Cornelius Town Board meeting.
RELATED: Property owner speaks out after being silenced at hearing
It's a serious development in every sense of the word. The town board split 2-2 on the project at their last meeting, and deferred the decision to this coming Monday. The issue has to do with whether the property, which sits in the middle of a residential area, should be developed for homes or for commercial uses. The town's planning department wanted it to go commercial; this, in a lakefront town whose budget is largely funded by residential ratables. Of course, neighbors insist that the property remain residential.
Caught in the middle are the property owners, who, of course, have rights. The Houser family wants to sell it to Classica, the developer of the upscale Robbins Park neighborhood.
"We hate to do this at the last minute," said Rick Jasinski of Classica Homes, "but the new information we received from the DOT brings the widened road much further onto our property and we need to evaluate whether the homes would be viable with the widened road."
Up until last week both the town and Classica were guesstimating the encroachment of the new road, using 60 feet from center line as a right of way guide. However when the new DOT site-specific cross sections were received, it was clear that the 60 foot estimate was not enough. Furthermore, according to town Planning Director Wayne Herron, the DOT also added 10 feet for possible utility easements.
It's unclear now precisely how far the road will extend in either direction away from the current centerline.
"Given these developments, Classica wants to revaluate the viability of the project and the town needs to access the impact of the homes backing up closer to the road they we initially thought," Herron said.
If Classica decides to proceed, they will need to do a new site plan which will trigger a new public hearing where residents can comment.
At an hour-long public hearing on April 18, 12 residents all spoke in favor of the project, which has placed the town planners who recommended rejection in contrast with the planning board which approved the application.
In an informal pole at that meeting, the commissioners split 2-2 but Commissioner Dave Gilroy was absent, and Mayor Chuck Travis asked to table the measure  since, he said, "it is a decision that's extremely important for our town and  we need to have all commissioners present."