Feb. 1. The City of Kannapolis and Carolinas Healthcare System honored the 2017 Run Kannapolis participants during a special ceremony on Jan. 30th.
The event also honored Loop the Loop Challenge participants. Loop the Loop is a series of loops around the city's downtown that people can walk, bike or run.
This year, 32 people completed all eight of the 5K Run Kannapolis events and over 400 people participated in this year's first ever Loop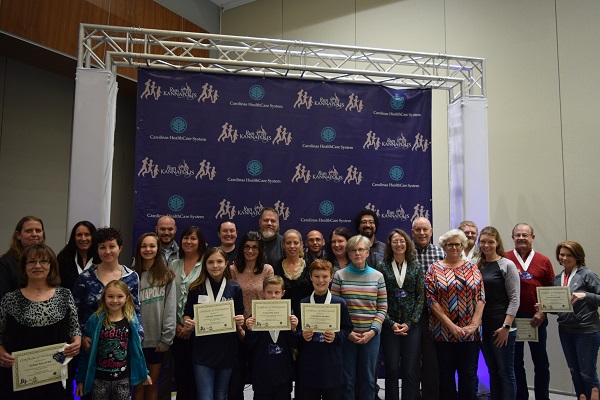 the Loop Challenge.
These participants were: Linda Bohrer, Linda Craver, Keith Eagle, Bryan Edwards, Sarah Edwards, Brandon Farabee, Tucker Farabee, Carla Gallenberg, Josh Hall, April Helton, Chloe Helton, Lillian Helton, Christy Honeycutt, Sara Jones, Earl Lentz, Lisa Lentz, Jason Martin, Michelle Mikoski, Heidi Newton, Ruben Ortiz, Denise Pettigrew, Logan Rogers, Terri Shaffer, Kahlan Smith, Chloe Thomas, Amy Vrabely, Shelley Wagner, Peggy Wagstaff, Tiffany Wagstaff, Luke Wallace, Kristy Wyatt, and Steven Yost, who completed all eight 5Ks!
Over 100 people completed at least five events qualifying them to receive commemorative Run Kannapolis medals and prizes during the ceremony. A total of 1,100 people ran at least one of the races.
This was the first year for the Loop the Loop Challenge. In this challenge, people were asked to complete 150 miles in 2017 to qualify for prizes. More than 400 people participated in the program and most exceeded the 150-mile requirement.
There were five people who looped more than 1,000 miles. Sylvia Anderson completed an amazing 2,630 miles; Ken Webb finished second with 1,314 miles, J.R. Roberts was third with 1,282 miles, Lorrie Hampton finished fourth with 1,224 miles and David Rowland was fifth with 1,092 miles.
"We continue to be amazed with the number of people who are participating in these events," said Kannapolis Mayor Darrell Hinnant. "We hear so many positive comments on how participants get to know each other, lose weight and have better health. This is a great way for us to have a better community: physically, mentally and socially. We hope you and your family will participate this year."
Kannapolis launched both programs as part of the City's Discover a Healthy Life brand.
The City has added more loops this year in partnership with the Cabarrus Health Alliance.  The new loops are in the communities near many of the Kannapolis City Schools.
For more information and to register for the 2018 Run Kannapolis series and Loop the Loop, visit www.runkannapolis.com or www.kannapolisnc.gov/looptheloop.