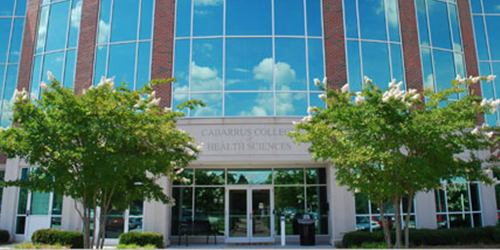 Mar 4. Carolinas HealthCare System's Cabarrus College of Health Sciences has been ranked one of the top 10 colleges and universities in North Carolina by a national ranking system of more than 2,000 four-year institutions. College Factual ranked Cabarrus College No. 8 out of 51 total colleges and universities in the state.
Located on the campus of Carolinas Medical Center-NorthEast, Cabarrus College has 450 full- and part-time students earning associate, bachelor and master's degrees in programs such as nursing, occupational therapy, pharmacy technology, medical assisting, medical imaging and surgical technology. The college offers courses on-campus and through distance education, as well as diplomas, certificates and continuing education.
"We are honored to receive this recognition, an affirmation of our commitment to the success of our students," said Dianne Snyder, DHA, RN, chancellor of Cabarrus College of Health Sciences. "Our faculty and staff work closely together to ensure our students are well prepared to enter their chosen healthcare professions and provide excellent patient care."
College Factual rankings are based on four categories: student body caliber, availability of educational resources, degree completion rates and post-graduation earnings. Most of the data come from the National Center for Education Statistics' Integrated Postsecondary Education Data System.
In 2014, Cabarrus College reported 100 percent pass rates among students taking national board certification exams in occupational therapy, medical imaging and medical assisting. In 2014, graduates taking the NC Board of Nursing NCLEX-RN exam achieved a 99 percent first-time pass rate. The college has remained on the President's Higher Education Community Honor Roll since 2006, the highest federal recognition colleges and universities can receive for community service, service-learning, and civic engagement.
"The academic and professional successes of our students is a top priority at Carolinas HealthCare System," said Mary N. Hall, MD, FAAFP, chief academic officer for the System. "Our diverse care locations, dedicated resources and evidence-based initiatives allow students to work as part of a team, gaining well-rounded experiences they can use as the foundation for their medical careers."
Carolinas HealthCare System is also home to the Mercy School of Nursing and Carolinas College of Health Sciences, which in 2012 and 2013 was ranked the No. 1 two-year college in the nation by StateUniversity.com. The System also has partnered with the University of North Carolina School of Medicine to create a regional campus, UNC School of Medicine Charlotte Campus, at Carolinas Medical Center.
About Carolinas HealthCare System
Carolinas HealthCare System (carolinashealthcare.org), one of the nation's leading and most innovative healthcare organizations, provides a full spectrum of healthcare and wellness programs throughout North and South Carolina. Its diverse network of care locations includes academic medical centers, hospitals, freestanding emergency departments, physician practices, surgical and rehabilitation centers, home health agencies, nursing homes and behavioral health centers, as well as hospice and palliative care services. Carolinas HealthCare System works to enhance the overall health and wellbeing of its communities through high quality patient care, education and research programs, and numerous collaborative partnerships and initiatives.