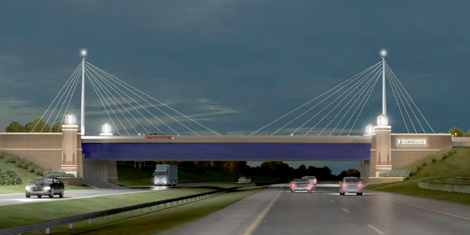 By Dave Vieser
The meeting was facilitated by former Cornelius Mayor Pro Tem Susan Medlin, the owner of an advertising agency on North Main Street. Her name has come up as a possible replacement for John Bradford on the Cornelius Town Board.Secure with the knowledge that weekday lane closings at Exit 28 are finally a thing of the past, a group of some 30 local business leaders gathered Wednesday evening at Prosciutto's Restaurant to brainstorm methods of bringing customers back after long traffic delays during the summer kept customers away from the new Diverging Diamond Interchange.
There was no lack of enthusiasm among the attendees, and the ideas were wide-ranging. Among them:
1. Cynthia Team, a commercial broker, suggested an upbeat, positive Facebook page for Exit 28 merchants to help stores and restaurants affected by the Diverging Diamond construction. In fact, before the night was over, Team launched "Exit 28 is Great" on Facebook. It now has more than 200 members.
2. Mayor Pro Tem Woody Washam suggested "Shop Local" as a marketing slogan to help support businesses near Exit 28.
3. Tricia Sisson, owner of The Range at Lake Norman, suggested merchants review each other businesses via Google Plus reviews to boost online exposure.
4. Dr. Michael Miltich, an otolaryngologist who is one of the finalists for Bradford's position on the Town Commission, suggested a card printed on both sides with a directory of businesses at Exit 28.
Other suggestions included distributing flyers in local motel and hotel lobbies promoting the local businesses; create a new map highlighting local businesses; emphasize specials in all advertising to attract more customers; and conduct a street fair, complete with "open houses" to show that everyone is open for business again.
Members of the town board, including Mayor Chuck Travis, were in attendance.
Meanwhile, town officials have agreed to temporarily relax the sign ordinance, allowing businesses to advertise with banners during the key Christmas holiday season.
Despite all of the positive vibes, several local business owners made it clear to town officials that any further closing of lanes at Exit 28 would be disastrous. "Let me make this clear," said Jack Salzman of Lake Norman Chrysler Dodge Jeep, "if you shut down any of the Exit 28 lanes between now and the New Year, you'll be closing the door on some businesses forever."
The meeting was organized by the Lake Norman Chamber of Commerce.