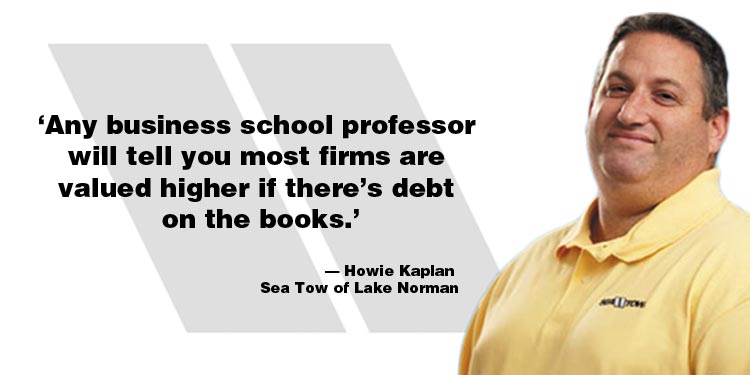 By Katie Piccirillo Sherman. When Howard Kaplan bought the Lake Norman Sea Tow franchise in 2006 he made a small down-payment, while the seller financed the rest. Other entrepreneurs use back-pocket financing for start-ups, others use credit cards to smooth out the ebbs and flows of business.
The National Small Business Association says about a third of small businesses have used credit card financing in the past 12 months to meet their capital needs.
With more and more online offers, including companies like Kabbage and LendingTree, small businesses have more choices. Online lenders offer a quick turnaround and accurate, online accessibility with the most accurate credit score algorithms. More businesses use bank loans and the earnings of the business.
"A lot of times, people are proud of the fact that they have no debt," Kaplan said. "But, any business school professor will tell you most firms are valued higher if there's debt on the books. This debt makes a company more valuable because a portion of the interest of the debt is tax refundable."
But, seller financing is just one of many ways to fund your small business dreams.
Lynn Douthett, district director of the Small Business Administration said lending is up 25 percent compared. "And, if that's happening in the SBA, it's happening on the conventional side, as well."
In fact, compared to March 2014, there's been a 22 percent increase in the number of loans and a 20 percent increase in volume in Mecklenburg County.
So, how should small businesses go about securing financing from their local banking institution?
"Start by having a business plan completed and have a thorough understanding of your marketing plan," Douthett said. "Know how you intend to execute your business plan because the loan will be based on these projections. Additionally, provide your lender with documentation in a timely fashion."
Jason Lackey, a Wells Fargo senior vice president, said most financial institutions rely on the Five C's of Credit: Character, capacity, capital, collateral and conditions.
"The SBA offers an insurance for lenders. We help businesses that wouldn't necessarily qualify for a traditional bank loan," Douthett said. To take on risk, the SBA and banks thoroughly investigate the loan readiness of a new or existing business by looking past a credit report and digging deeper.
"Each situation is different, so we ask a lot of questions. We look at your credit score but know that's not the final story," Douthett said. "In addition to seeing what your credit report looks like, the SBA looks at whether or not you've been delinquent on your mortgage or bills? If so, was that an isolated incident? What background in business do you have and what type of business do you hope to start? Do you have experience in that industry? Can you repay this loan? Do you have anything to pledge? Is the market saturated? Is the economy moving forward?"
And, while the thorough investigation into your finances can be intimidating to small business owners, Lackey said the best policy is to treat your local banker as a trusted member of your board.
"Your banker will be the best advocate for you," Lackey said. "Be wide open and transparent about your business and any concerns you have with them. The more they know, the better they can service and advise you."
Lackey said that the economic crash in 2008 changed the small business climate for startups. "The crash taught us how to operate without credit," he said. "Business owners have gotten better at doing more with less. North Carolina has seen more growth and trade, lines of credit, and technological expansion."
Growth from inside and outside of the region means there is opportunity to expand. "There is a natural surge in population. This gives businesses a clean slate and a fresh crack at people moving into the area. Sales will likely increase without businesses having to steal market share," Kaplan said.
A Wells Fargo survey of small business owners said confidence and optimism is the highest it's been in seven years.
Business is good for local banks. Aquesta Financial Holdings says first quarter rose 15 percent to $501,000. "Growth was fueled by excellent year over year loan growth," said Jim Engel, CEO and president.