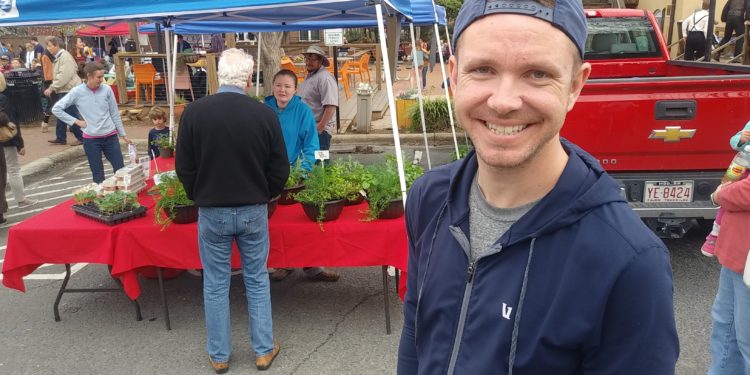 Justin Burke-Samson, the manager of the Davidson Farmers Market, will open a bakery called Bonjour Y'all next door to the Kindred restaurant where he was previously executive pastry chef. Bonjour Y'all replaces Gateau on Main Bakery and Dessert Bar in 700 square feet downtown.
Gateau on Main will close in early August.
The menu and environment of Bonjour Y'all will be a reflection of Burke-Samson's American comfort desserts and pastries which had fans at both Kindred and Hello Sailor, Joe and Katy Kindred's second restaurant in North Mecklenburg.
Burke-Samson's new project evokes a small Paris cafe, with inspiration from the French Quarters of Charleston and New Orleans. "Fun, comfort, and good times," Burke-Samson said.
he menu includes breakfast pastries, savory pastries, cookies and bars, fresh baked breads, cakes, pies, tarts, and cobblers. The beverage menu includes coffee, sweet tea, seasonal drinks, house-made sodas, wine, and beer. The bakery will also have a pantry with jams, curds, dessert sauces, granola, dips, and cheese spreads.
The business is located in an old house with a front porch and patio facing Main Street.
Tara Ragan, owner of Gateau on Main, originally acquired the space last summer.
"Getting a space on Main Street is difficult in Davidson, it goes quickly," she said. She said she "put the cart in front of the horse and opened up before we were really ready."
She reached out to Katy Kindred for advice who organized the meeting with Burke-Samson. "Closing down Gateau on Main and starting fresh with Justin's vision is the right thing to do," she said.
Bonjour Y'all will open in September. Staff and wholesale clients are moving over to Burke-Samson's new bakery.
Burke-Samson, who is also a culinary writer, developed Kindred's iconic milk bread and seasonal Southern desserts. He has been named one of the 10 top Southern Bakers by Bake from Scratch, and featured by Food & Wine, Bon Appetit and Garden & Gun.
His Eater article "Homophobia Almost Made Me Quit Being a Chef" gained national attention.
Burke-Samson said he is "thrilled to continue working in Davidson" and with the farmer's market. "I love this town and have loved being a part of it for the past four years," he said
The Davidson market is a local, growers-only market which means all items sold are grown and produced within 100 miles of Davidson by the vendor.