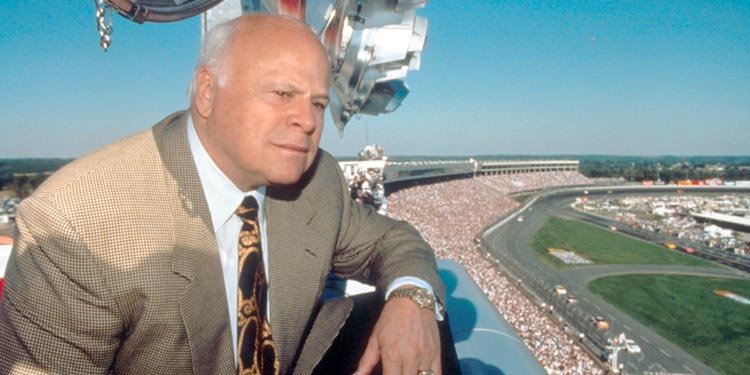 By Dave Vieser. Bruton Smith, a name synonymous with auto racing, has been selected to join the Nascar Hall of Fame. Smith, founder and chairman of Concord-based Speedway Motorsports, will join former race car drivers Terry Labonte, Curtis Turner, Jerry Cook and Bobby Isaac at the official induction in January 2016.
"It will truly be an honor to be remembered at the Hall of Fame," said Smith, 88, upon learning of his selection. "I'm a frustrated builder who had a knack for promoting races, and it's been fun to always try to push the sport to greater heights for the fans."
Smith first joined with racing star Curtis Turner in 1960 to open Charlotte Motor Speedway. Since that time, his influence on the sport has grown steadily, to a point where today, Speedway Motorsports owns and operates speedways in Atlanta, Tennessee, Kentucky, Las Vegas, New Hampshire, Fort Worth and Sonoma, Ca. In all, his group plays host annually to 13 Nascar Sprint Cup Series events, as well as the Sprint All-Star Race, Nascar XFINITY and eight Camping World Truck Series races.
Smith has never been one to shy away from controversy, but his ability as a strong business leader is widely recognized.
"Bruton Smith's vision and persistence has created prosperity for many Cabarrus County businesses and individuals" said Steve Morris, President of the Gem Theatre in Kannapolis. "It's more than appropriate that he be recognized for establishing the Cabarrus Region as the "Home of NASCAR" and shining an international spotlight on Concord and Cabarrus County."
Smith says his goal has always been to put on a great show. "I want our fans to know we're always working to build the best facilities for them and that's who I really owe this recognition to."