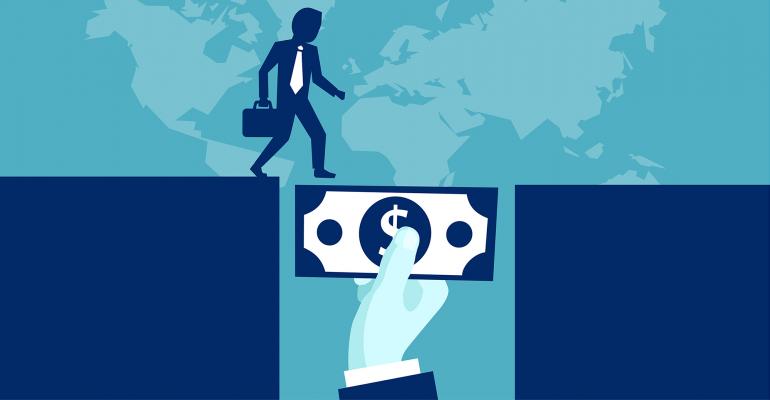 By Debbie Griffin. In today's competitive real estate market, the perfect home seldom stays on the market  very long.
And while a super quick home sale may be the talk of the neighborhood, it can leave home-sellers in a predicament.
How do you find the right home in a short amount of time when your money is still tied up in your current home? Indeed, so sellers won't accept an offer that is contingent upon the sale of another home.
Astute bankers and real estate companies are marketing bridge loans as a way to close the finance gap between one's current abode and the next one.
Allen Tate Mortgage recently announced a short-term loan program that uses equity in a current home to secure the 'buy-before-you-sell' financing. The company reasons: In today's competitive real estate market, "great homes seldom stay on the market for very long."
In the current, super-tight real estate market, homes often sell in a day or two.
It means you have to act quickly when you find the home you like, but you may very welll be competing against buyers who either don't have a home to sell or have adequate funds in hand.
A major benefit of a bridge loan is that the application process is faster than with other loans, so you get your funds quickly.
A bridge loan means you're ready to shop and make an offer. They come at a price: The statewide average rate is about 11 percent.
Gap funding may also be used for renovations and to flip real estate, as well as for commercial purposes.
Bridge loans can also help sellers stage and show their current home without disruption, eliminating the logistics of coordinating a move-out and move-in.
Each lender is different, but most bridge loans have characteristics in common:
• They're a temporary funding tool secured by an asset, usually a home or business.
• Loans are relatively short in term, about a year.
• Funding carries a higher interest rate than other kinds of financing.
• Fees tend to be higher, with point-origination fees estimated around 3.
• Credit needs be good-to-great.
• Buyers need a fair amount of equity in their current home.
Allen Tate expands services
Chris Cope, president of Allen Tate Mortgage, said their Buy Before You Sell is a short-term loan that uses equity in the current property to generate down-payment
funds for the next home. The funding eliminates the angst of living in a home while also staging and showing it for sale.
"This allows them to take advantage of today's low interest rates and offers peace of mind in a low-inventory market," Cope said.
Allen Tate's bridge-loan consumers must meet the Fannie Mae/Freddie Mac loan guidelines with a credit score of at least 660, a low debt-to-income ratio and significant equity.
Qualified borrowers use the firm for their purchase and sale transactions, as well as mortgage financing.
Building bridges
"A big thing for us as a community bank is being consultative," said Aquesta Chief Banking Officer Trey Weir.
He said the Cornelius-based bank offers bridge loans when they fit an individual situation and can help a person accomplish their goal. Weir said a family's home is typically its biggest asset, and many times people don't know how to access and use that equity.
He said standard pricing for the loans is comparable to a home equity line of credit. Aquesta must be in first position on the deed of the home for sale and be involved on the prospective house, either as mortgage or equity lender.
It's a reality that bridge-loan consumers might not sell the existing home within the term of a bridge loan, and then get stuck with payments on two mortgages and bridge-loan interest.
However, Weir said he doesn't see that happen much in the Lake Norman area.
"We've never had one go past a year," he said.
Robust demand
Don Flowe, chief credit officer of Mooresville-based blueharbor bank, said shorter term bridge home equity lines are part of the portfolio of solutions the bank uses.
"Essentially, we provide a line on the borrowers' existing home so that they can use this equity to purchase or provide a down payment on a new residence," explained Flowe.
He said a lower home inventory has created a "robust" demand for bridge loans.
Flowe said a short-term equity loan works for customers with great credit and enough income to cover the payments, plus it can give them a competitive advantage in a tight real estate market.
Bridge Loans: By the Numbers:
• 42 bridge-loan lenders operate in the state, according
   to the site HardMoneyHome
•  $348,307 is the mean bridge-loan amount
   in North Carolina
•  11.1% is the rate average
•  17 months is typical loan term
•  Online entities such as the Bridge Loan Store
   and newcomer Knock.com offer bridge loans.