Sept. 6. By Dave Yochum. Birkdale Village, the lifestyle center in Huntersville that's undergoing a $20 million overhaul, is planning to add a hotel, as well as office and commercial space and hundreds of multifamily units.
DDRTC Birkdale Village LLC is asking the Town of Huntersville for permission to build:
—A 125 room hotel
—350 multifamily units
—150,000 square feet of offices
—25,000 square feet of commercial
The expansion on 8.82 acres located at the intersection of Townley Drive and Lindholm Drive could virtually double the size of the 250,000 square foot mixed-use development.
Retail trends 
Conceived as a modern-day interpretation of the shopping mall, lifestyle centers are characterized by outdoor settings and multiple uses, including office, multi-housing and hospitality in addition to upscale, national-chains and specialty retail. Birkdale Village owners early this year began a $20 million redo which included eliminating the roundabout and fountain in the center of the complex.
Birkdale Village officials could not be reached comment. The pedestrian-friendly, mixed-use project, apparently the first of its kind in the United States, is owned by Nuveen Real Estate and North American Properties (NAP).
Background
Research has shown the top 20 lifestyle centers in the largest US markets reported nearly 8.1 million visits in August 2021, compared with 1.3 million visits in April 2020. During 2021's second quarter, lifestyle centers drew 46 percent higher rents than regional malls and 11.5 percent higher rents than super regional malls, according to a May 5 press release from Nuveen and NAP.
Looking ahead: Zoning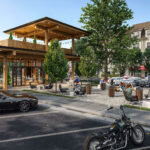 The Town of Huntersville would have to amend its zoning ordinance to allow hotels and commercial use structures within a pedestrian-oriented development of the highway commercial zoning district to exceed the permitted building height up to 145 feet with a special use permit. The Town Board is expected to hold a public hearing on the proposal Oct. 3.
Trial balloon?
The conceptualization below, which appears to show the new development going vertical at Barnes & Noble, was shared by Lake Norman Economic Development back in February. LKNEDC did not respond for comment.