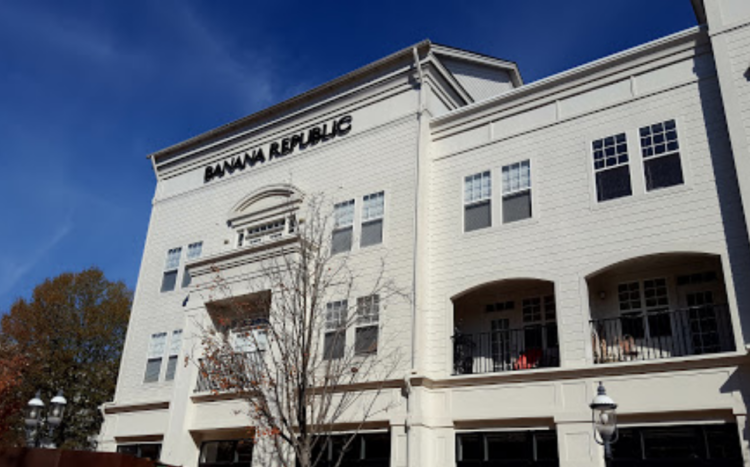 March 6. [Updated March 7] By TL Bernthal. Banana Republic in Birkdale Village will close March 24 but there's no indication as to what will take its place.
That the location would close was announced last fall. The closest Banana Republic  is in Charlotte and is fully staffed, so the sales staff in the Huntersville store are not being offered positions, according to a worker.
The saleswoman said Anthropologie was coming in, but North American Properties, the owners of Birkdale Village, say they will announce what brands will occupy teh Banana Republic and Loft space at the Birkdale Commons Parkway intersection later.
In November, NAP said: NAP is in negotiation with the brand that will take the space and "cannot share that information until the lease is fully executed."
Anthropologie has NC stores in Atherton Mills and  SouthPark in Charlotte and in Greensboro.
Kilted Buffalo
The Kilted Buffalo in Birkdale Village has re-opened. In February, it closed for renovations and updates inside and out.
The sports pub-barber shop, which recently announced an agreement NAPVfor a five-year lease extension, originally planned to reopen March 3 in time for March Madness and St. Patrick's Day, but then the re-open date was unclear when the town of Huntersville announced work at Townley Road might take longer than expected.
While it was closed the combination men's grooming parlor and Irish sports pub did some renovations inside.
The sidewalk in front on Townley Road and around the corner is being dug up to change the main water lines. For now,  part of Townley Road just past the Kilted Buffalo around the corner to Total Wine is closed to traffic. Cheesecake Factory is opening in the corner sport where the Gap used to be.