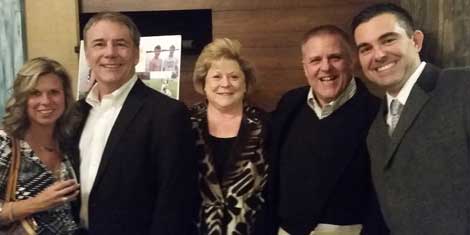 Big Day at the Lake 2015 got under way this past month in fine form with a party for sponsors and a "Beach Bash" for friends at Harvey's in Cornelius.
I'm lucky to be associated with Big Day at the Lake, which puts at-risk youngsters from Big Brothers Big Sisters and their mentors out on Lake Norman and Mountain Island Lake for a day of fun each year. This year's event will be held on Saturday July 18.
Big Day at the Lake is all about at-risk kids, but it has three goals: Provide a day of fun for kids in BBBS who would not otherwise experience lakes, boating and tubing; recruit mentors; and raise money for a worthy non-profit that focuses exclusively on at-risk children.
It's a narrow focus and we've stuck to our knitting for 11 years, thanks to support from business, volunteers, devoted committee members, the Lake Norman Chamber of Commerce and elected officials.
Thanks to businesses and individuals, Big Day at the Lake is responsible for raising well over $500,000 for Big Brothers Big Sisters—lots more in terms of in-kind donations that bring down their fund-raising costs. Big Brothers Big Sisters serves some 250 children in North Mecklenburg and 100 in Cabarrus County, two of our top readership areas.
We're grateful for our support from elected officials who recognize that equal opportunity for all is a good thing for society as a whole and business in particular.
Big Day at the Lake has a new website, www.bigdayatthelake.com, designed and built by our own Stephen Nance.
If you're interested in becoming a sponsor of Big Day at the Lake—every sponsor dollar goes to Big Brothers Big Sisters of Greater Charlotte—I'd love to hear from you. Visit the web site to learn more.
Sidebar: How engaged are you?
A new report released at the Institute for Emerging Issues' annual forum says North Carolinians are and are not engaged in their communities. The 2015 North Carolina Civic Health Index says 25 percent of North Carolinians participate in church, synagogue or mosque beyond simple service attendance—above the national average of 19.4 percent. The report also says 17.7 of us participate in school, neighborhood, or community groups or associations, compared to the national average of 13.9 percent.
We're also more generous than the national average: 53.3 percent of North Carolinians donate $25 or more to charitable organizations, compared to the national average of 50.1 percent.
Not all North Carolinians are equally engaged. Young adults, racial and ethnic minorities, and persons with lower incomes or lower educational attainment are less engaged. Veterans, by contrast, are typically more engaged, according to the institute.
My experience is that being fully engaged is a great thing.