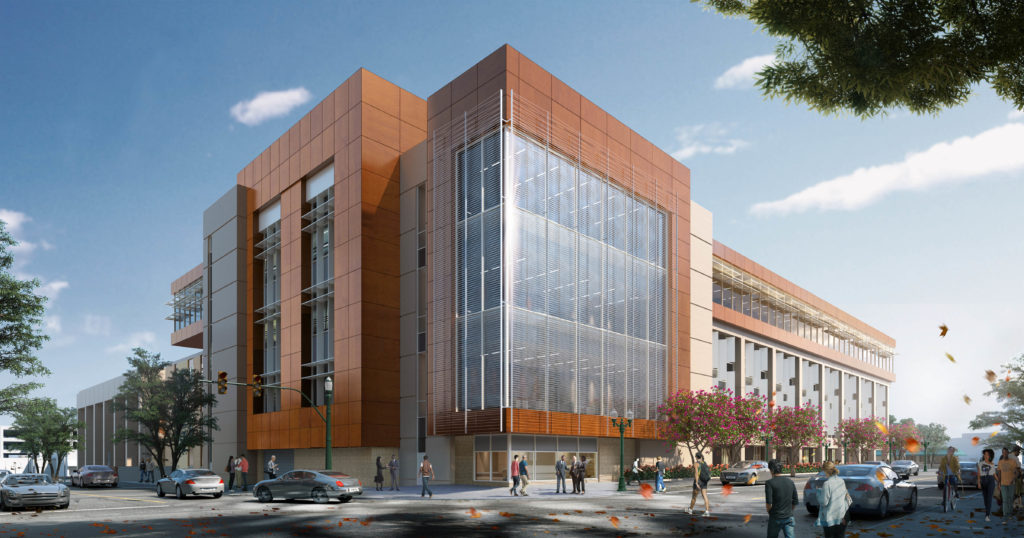 Nov. 12. Crews will install a 135-foot crane for construction of the new Cabarrus County Courthouse in downtown Concord. Flaggers will direct traffic along the 50 block of Church Street S from Nov. 16 to Nov. 19 while crews transport and position the crane.
Construction on the 250,000 square foot Courthouse project began earlier this year with crews working mainly nights inside the existing Courthouse. In September, crews demolished the existing Courthouse annex and made way for the footprint of the new building.
The entire project to last about five years. The existing courthouse will undergo renovation. Officials expect the entire project will last between 24 and 28 months.
Plans include the relocation of the courthouse entrance to a pedestrian plaza built on the former Means Avenue. This will allow for better access from Church and Union streets. The project will update the nearly 50-year-old building and help with a continued increase in court traffic.
According to the North Carolina Administrative Office of the Courts, use of the Cabarrus County Courthouse increased 131 percent over the last three decades. Court filings in 1986/87 totaled 27,506. By 2016/17, that number rose to 63,567.
Local businesses remain open during the expansion/renovation project. For more information on the shops, restaurants and businesses of downtown Concord, visit www.concorddowntown.com.