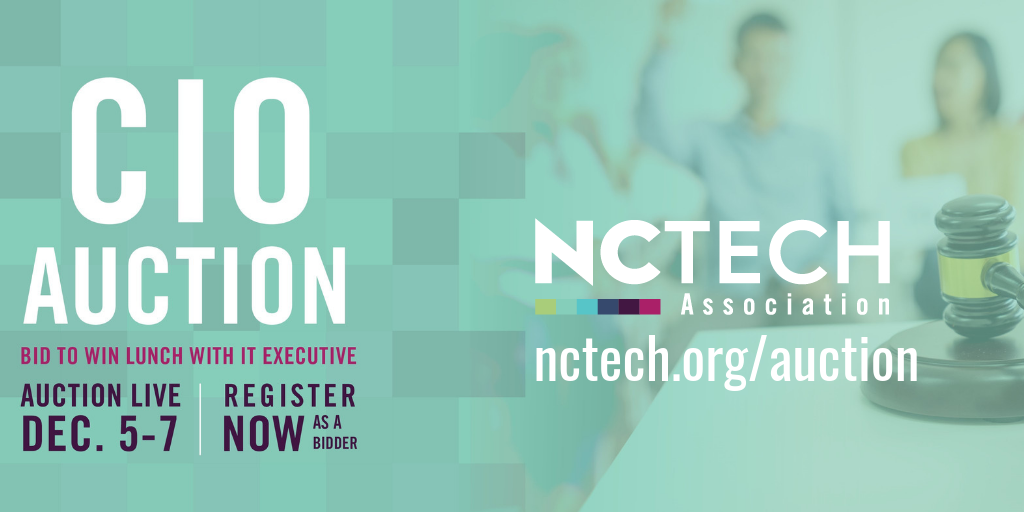 Online bidders can win lunch with top North Carolina IT executives thanks to an auction put on by the North Carolina Technology Association aka NC Tech. The two dozen technology executives, who collectively will spend a combined $3 billion in the upcoming year, include top brass at Bandwidth, BB&T,  Cardinal Innovations, IBM, Lord Corp. and Wells Fargo. The online auction can be accessed at  https://www.nctech.org/events/event/2018/cio-auction.html
Bidding opens Wednesday for lunch with the IT execs. There is a "Buy It Now" option, to give bidders the ability to guarantee their lunch with a preferred CIO.
Proceeds from the auction support technology trade association's programming and a scholarship fund for women pursuing STEM academic paths at North Carolina institutions of higher education.  Bidding is only open to employees of NC Tech member companies, and bidders must pre-register to submit bids for one or more of the participating IT leaders.
The Auction will run for 48 hours, from noon on Dec. 5 until noon on Dec. 7.