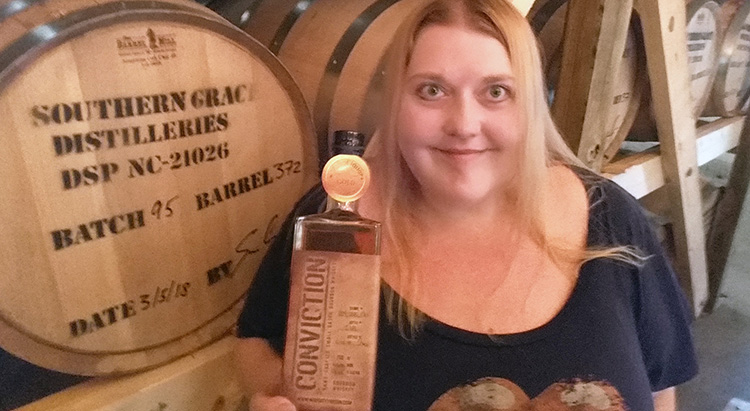 July 9. By Dave Yochum. Southern Grace Distilleries in M​t. Pleasant is adding a second shift to handle the increasing demand for ​the award​-​winning​ ​Bourbon​ it ​distills in ​an old state ​prison​​.
​And half​-​way through 2018, ​Southern Grace​ revenue this year has already surpassed all of 2017​, says Leanne Powell, CEO of Southern Grace.​
​The distilling industry is booming as "premiumization" continues among booze connoisseurs. Affluent consumers are willing to spend more on quality products. Meanwhile the population growth among ​adventuresome, ​drinking​-​age Millennials is outpacing the general population.
And the explosion in craft distilleries is showing no signs of slowing down. Ten years ago, there were roughly 50 craft distilleries in the United States. Today, there are ​more than 750,​​ according to the American Craft Spirits Association.
Southern Grace ​launched​ in Co​ncord in 2014. "At that time, we were the 19th in the state," says Powell, who was chief of staff for former U.S. Rep. Larry Kissell. "Now there are close to 80​."
Southern Grace moved to the​ old Mt. Pleasant prison in 2016 when ​economic developers were looking for a business that would tap into an abundant water supply. "Some people thought it was a long shot, but we made it work​,"says Powell.
​Getting a genuine bourbon distillery up and running ​isn't cheap. "We pumped almost ​$1 ​million in 2016 when we rehabbed the former state prison in Mt. Pleasant," Powell said.​ She has recently expanded the distribution to Connecticut, Oklahoma, Illinois, Louisiana and Minnesota.
Southern Grace is also becoming a tourist attraction, more good news for the Mt. Pleasant economy. Southern Grace is a regular stop on familiarization tours for travel agents and writers: The "Whisky Prison After Hours Tour" July 6 was sold out at $19 per person.
Bourbon is an American thing, like genuine Champagne is from a particular region in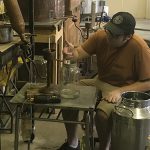 France.​ "Most people don't realize it, but by law, bourbon sold in the U.S. must also be produced in the U​.S.​,"​ Powell said.​​ Bourbon, made with at least 51 percent corn, is amber in color and a little sweeter and heavier than other whiskies.​
​Tax changes gave the industry a boost. The federal tax overhaul which went into effect this year created a tier system of taxes, lowering the excise tax on the first 100,000 gallons of distilled spirits from $13.50 per gallon to $2.70 per gallon.
According to the U​.​S​.​ Distilled Spirits Council, this is the first time the excise tax on distilled spirits has been lowered since the Civil War.
​On the flip side, a trade war between the U.S. and Canada is unfolding. ​Ottawa's new 10 per cent tariff on American whiskey could force bourbon aficionados in Canada to shell out more for a drink, or switch to a domestic blend.
Meanwhile, Statesville-based Southern Distilling has landed a Double Gold Medal from the Great International Spirits Competition and a Gold Medal from the Los Angeles International Spirits Competition. There were more than 300 entries from some 100 distilleries nationwide.
Southern's $4 million distillery is off I-77 near the Statesville line. Statesville was the "liquor capital of the world" in the 1880s. Prior to prohibition, the city was widely known for the production of high-quality whiskeys and bourbons.
Hundreds of local farm distilleries and some of the largest spirits wholesalers in the East called Statesville home from the 1880s to the early 1900's.
Statewide prohibition came in 1909, putting an end to the industry here.
Powell says changes in North Carolina laws have been a game changer. The craft beer industry has taken off, too, creating an economic development boom, especially in hip, downtown districts with a ready supply of Millennials.
Distilleries and breweries can be equally expensive, but distilleries that make aged products have to invest years into aging—and warehousing.