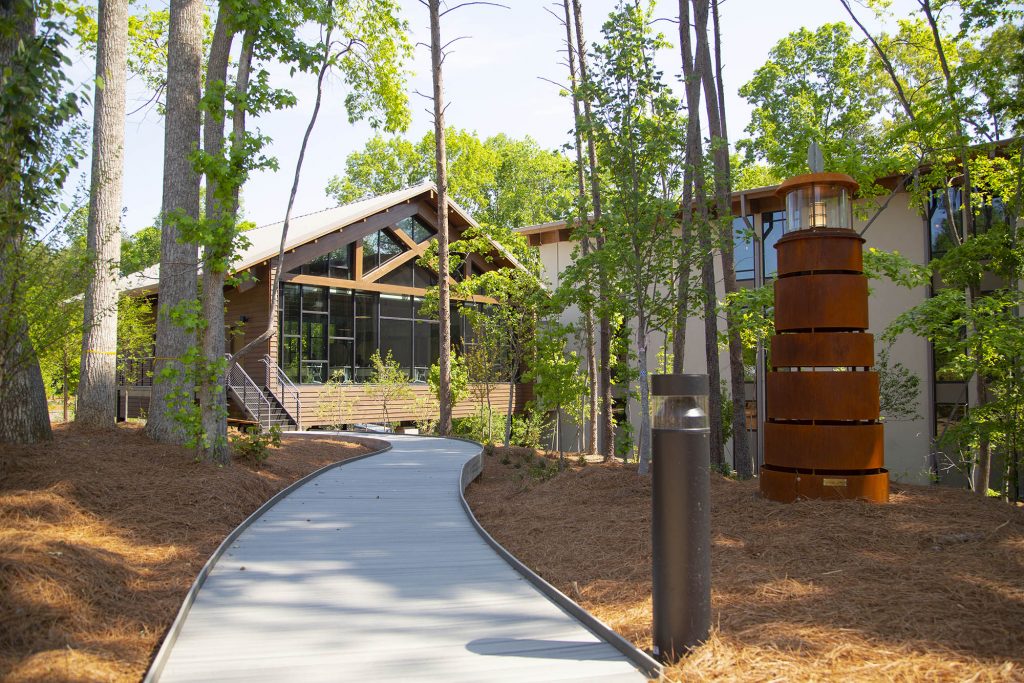 June 21. When it comes to offsite corporate retreats, places like the stately Graylyn Conference Center have some new competition. The BB&T Leadership Institute officially opened its new 60,000-square-foot campus in Greensboro. The $35 million campus has "immersive spaces" for learning, as well as 48 individual guest rooms, a "tree house" meeting room, dining and fitness facilities. It's as contemporary as Graylyn—where the Cornelius Town Board retreats annually to contemplate things like tax rates and first responder pay—is formal, traditional and similarly contemplative.
Bringing together people from different backgrounds and drawing them close in an insulated setting is a corporate tradition that helps open lines of communication and builds relationships that hopefully transfer back to the workplace. Retreats establish a safe zone where anyone can share ideas. Every company says they want an open culture where everyone is on the same team. Offsite, people share ideas in a place where they don't feel like they're going to be judged or shouted down.
BB&T Chairman and CEO Kelly S. King views the Leadership Institute in broad, noble terms. "Our mission is to make the world a better place to live, and we believe one of the best ways to improve our communities is through stronger leaders in all facets of society," he said, explaining that it gives the financial giant an opportunity to share what they've learned about leadership for nearly half a century.
BB&T Leadership Institute will offer development programs for corporate executives, business owners, BB&T clients, organizational and educational leaders in a contemporary lodge setting.
"This really is all about the psychology of better business – using proven methods to create effective leaders and build successful teams for some of the brightest business minds in our country. With this new campus, we believe our leadership development programs will be an even more life-changing experience for our guests," said Will Sutton, director of The BB&T Leadership Institute.
CJMW Architecture handled the project which includes a reflecting pond.
"The ultimate design intent was to create a tranquil space for learning and self-reflection," said Jeff Sowers, AIA, principal architect at CJMW. "We wanted to see a harmonious marriage between the built environment and the natural world. The form of the building evolved from understanding the existing site – the terrain, the layering of canopy trees, the lake – looking at how to best introduce building elements, vehicular paths and capture views of the water."
Graylyn accomplishes similar goals with all the charms of yesterday, as well as full access to technology. Built in the 1920s by one of America's original captains of industry, Graylyn is rooted in business success. And, with magnificent architecture, carefully manicured lawns and gardens and world-class service, teamwork and communications come naturally.