May 9. Atom Power, a manufacturer supplying components involved with EV charging stations, will expand its headquarters and manufacturing facility in Huntersville, adding 205 new jobs by 2027.
The company is investing $4.2 million, according to the Mecklenburg County Office of Economic Development.
The project is estimated to grow the state's economy by $817.9 million.
Atom's new positions include electrical, mechanical, and software engineers, electrical technicians, and other manufacturing and support personnel with an average salary of $91,804.
The company's electric-vehicle charging product line focuses on commercial uses, including multifamily units and corporate fleets.
The expansion of Atom Power's headquarters will include the development of an energy transition center where Atom Power's EV charging solutions will be integrated with solar, battery, and switchgear systems to showcase the future of renewable energy to customers.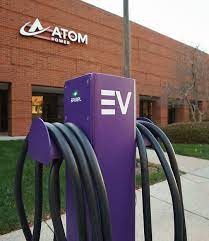 Quotable
"Atom Power is building technology that fundamentally reimagines the potential of our energy transition," said Ryan Kennedy, CEO and co-founder of Atom Power. "Our expansion in North Carolina is a critical step in this journey — it enables us to expand our access to the community's rich, vibrant talent pool and meet demand for our EV charging infrastructure now and in the future."
Details
The company's growth in Huntersville will be fueled, in part, by a North Carolina Job Development Investment Grant (JDIG), a performance-based incentive program. Over the next 12 years, Atom Power stands to receive up to $1,198,500 based on hiring and performance targets. Atom Power anticipates investing roughly $4.2 million in the local market and creating over 200 jobs.