June 8. David Dunn realized he had a special piece of property when he purchased the LKN Car Wash on Catawba Avenue in December of 2019.
After sprucing up the nearly 1.5 acre lot, the Cornelius Realtor began to host several successful food trucks. Voila: The property is being re-envisioned as a Food Truck Village on the western edge of Old Town Cornelius.
Based on the success of those trucks and the "general lack of food options along Catawba," Dunn said the village will have six to eight distinct and permanent food trucks, each in their designated spot on the property and operating full-time six or seven days a week.
"This is a permanent restaurant-row. … It's just that our restaurants are on two axles," Dunn said.
Leasing space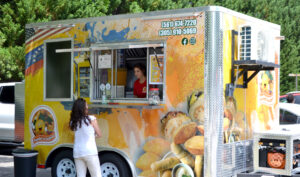 Each operator has signed a one-year lease, and, of course, the car wash stays where it is.
—Anchoring a central spot is a new 22-foot NY-style pizza truck called "Fat Guy and a Slice" owned and operated by Sal Gallina from Brooklyn, NY. Customers can get slices of various pies or whole pies.
—Venezuelan cuisine Pastales, on-site for nearly a year, is remaining on the property.
—Another major addition is Tex-A-Lina BBQ, a father-son team with a blend of Texas and Carolina BBQ that is new to the market.
—Jack's Treat Truck, featuring its signature homemade Ellie May's Dang Good Ice Cream, as well as homemade donuts, will anchor the "sweet" portion of the offerings.
'Cuisine exclusivity'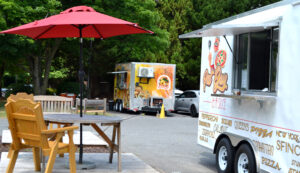 Each truck has been granted a "cuisine exclusivity" to ensure that they are the only offering of their particular concept. Other trucks in the works include a taco truck, a burger concept, and the return of the coffee truck, not to mention more seating and umbrellas.
"This really is a community-building endeavor," said Dunn. , "We have an abundance of pedestrians along the East Catawba sidewalks and, of course, about 20,000 drivers a day who can now more fully enjoy the Old Town Cornelius experience."
Dunn is also a founding board member of the Old Town Cornelius organization, which seeks to promote and connect the OTC community.