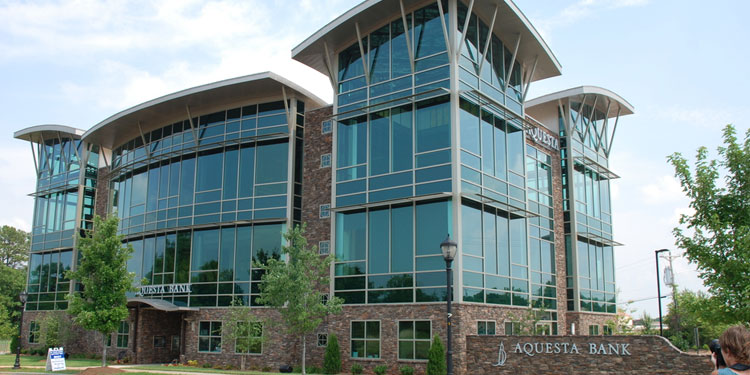 July 24. Aquesta Financial Holdings has announced it will buy back up to $500,000 of Aquesta Common Shares (AQFH) on the open market. Stock in the Cornelius-based financial institution is thinly traded and trades below book value. At the same time, Aquesta appears to be more aggressive about its plans to grow in Charlotte.
"We do not believe [our stock] has received the recognition our consistent profitability and growth would seem to warrant. As a result, our board believes it's in the best interest of the company and shareholders to institute a stock repurchase plan," said Aquesta CEO Jim Engel. "We believe limited repurchases will help improve the book value per share and earnings per share of remaining shareholders while also providing a boost to liquidity of shareholders who may be forced to sell due to personal reasons."
Aquesta went public at $11 a share. It's most recent trade was around $8.25. The company declared a 20 percent stock dividend two years ago, which means the basis for the original shareholders is $9.16 a share.
Aquesta recently expanded into the Charlotte market with the purchase of a CertusBank branch in SouthPark. Engel said Aquesta will continue to expand in the Charlotte market. "Exact locations have not been determined.  We have one commercial lender in the market and are in the process of hiring more," Engel said.
Aquesta also announced strong earnings for the quarter just ended. Operating income for the second quarter was $590,000 vs. $446,000 during the same quarter last year.Total assets increased to $269.1 million at June 30, compared to $263.6 million at year-end. Total loans increased to $184.1 million at June 30, vs. $172.2 million at the end of 2014.
"Our strong loan growth has allowed Aquesta to continue to show solid earnings growth both comparing quarter over quarter and year over year figures," Engel said.
"This quarter represents a record for Aquesta with our best return on shareholder equity since our formation in 2006. With loan growth that dramatically outpaces peers; we believe Aquesta is really starting to hit its stride," he said.