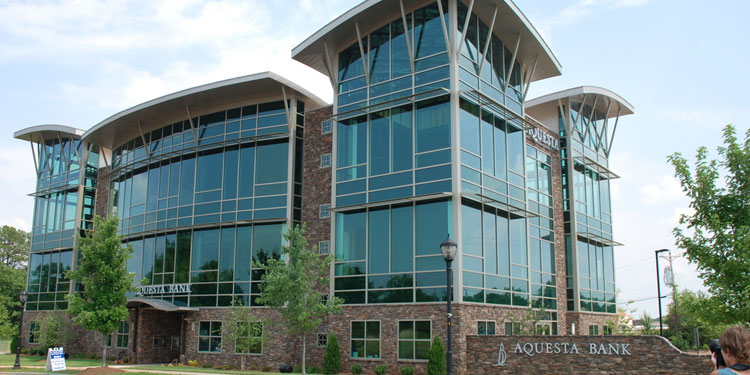 Aquesta Financial Holdings, the parent company of Aquesta Bank, reports third-quarter net income fell from $757,000 (19 cents per share) last year to $702,000 (17 cents per share) for the three months ended Sept. 30.
Jim Engel, CEO, said loan and deposit growth were good, despite the fact that earnings were muted due to larger loan loss provisions in part related to significant loan portfolio growth and system conversion costs.
Loans up 20.5%
Aquesta reported loan growth of $47 million for the nine months ended Sept. 30, a 20.5 percent (annualized) increase.
Jim Engel"While we intend to increase focus on profits in 2019, growth of the franchise remains fundamental to our business strategy,"  Engel said.
The only bank headquartered in North Mecklenburg also reported that deposits rose $33 million for the first three quarters, an annualized increase of 17.8 percent.
Net income and capital were positively impacted by a gain of $1.7 million for the sale of Aquesta's insurance company in the second quarter of 2018.
Nonperforming assets at Sept. 30 of this year were at $558,000 compared to $27,000 at the same time last year. The increase in non-performing assets relates to a single loan which was taken into other real estate owned during the third quarter of this year.
New Operations Center
The bank is also opening an operations center in Mooresville. The 10,000-square-foot facility will house about two dozen employees involved in deposit operations and loan operations as well as accounting and finance.
Deposit operations are basically the back office activities relating to account openings and transaction processing. Loan operations are everything from loan documentation preparation and annual file updates to billings. There's no cash on premises, and no customers.
The bank has grown from 54 employees to 85 over four years.
Engel credits making the necessary investments to spur growth including systems, training, marketing support and community activities.
All growth has been organic, not through acquisitions.
"We have about 75 percent commercial lending and 25 percent retail, such as houses and home equity lines of credit," Engel said, pointing out that Lake Norman is a growth market.
"We are in a great market so we benefit from that. We have been expanding to Charleston and Raleigh, with loan production offices, and Wilmington with a full-service branch," Engel said.
The bank's conversion to a new operating system will help moderate growth in salary expenses.
"Efficiencies of the new system will be realized as we continue to grow.  The goal would be to grow salary costs at a pace less than the growth of earning assets. So, operations will continue to grow but if the systems provide the hoped-for efficiencies, the growth of the top line will mostly flow to the bottom line," Engel said.
Net Interest Income
Net interest income was $10.8 million for the nine months ended September 30, 2018 compared to $9.2 million for the nine months ended September 30, 2017. This is an increase of $1.6 million or 16.3%. The increase in net interest income continues to be directly associated with the Company's continued loan growth.