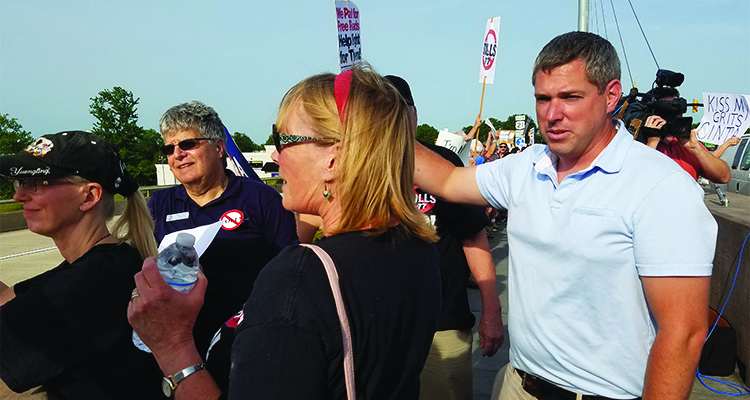 April 26. Anti-toll leaders from business, politics and ordinary walks of life are planning to protest on the I-77 overpass on Catawba Avenue. Set for 5 pm Friday, this will be the third time toll protesters have met on the bridge to express opposition to the $650 million, 50-year Cintra contract.
Organizers say the third annual protest is one indication the battle against Cintra and the NCDOT plan is not over. "Now more than ever" is a slogan that has energized anti-toll protesters.
"We continue to prove to the politicians and everyone that this contract is bad for our community and the fervor is not going away," said John Hettwer, who heads up a group of high-level business and political leaders known as I-77 Business Plan.
"We are having a series of meetings with DOT and others involved to explore all options," said Hettwer, a former chairman of the Lake Norman Chamber of Commerce. Meetings have included DOT Secretary Trogdon.
Construction work on the toll lanes began in November 2015, with nearly unending twists, turns and controversy ensuing. Mecklenburg political insiders say Gov. Pat McCrory lost his re-election bid because he lost the North Meck vote, which almost always goes solidly Republican.
This issue represents 35,000 to 40,000 votes for anyone running a statewide race in the future.
"Unlike Gov. McCrory, I am cautiously optimistic that Gov. Cooper fully understands that this issue will remain front and center until a better solution for our community and the state is found," Hettwer said.
The demonstrations, of course, have always been peaceful, with respected political figures like County Commissioner Pat Cotham, a Democrat, and Jim Puckett, a Republican, on deck. Bill Russell, the CEO of the Lake Norman Chamber, has attended twice.
Cornelius Commissioner Mike Miltich said the design, contract provisions and how the contract was approved, "in spite of six local votes to pause," as well as the 50-year contract term, "the misinformation, the tolling company, and lately the unsafe construction zones," are the "most detrimental event to our beloved Lake Norman communities."
Miltich, along with anti-toll leaders like Kurt Naas and fellow Town Commissioner Dave Gilroy, spoke out against the toll plan back in 2013. They were lone wolves, and utterly castigated by some of the incumbents.
Miltich, who was defeated in 2013 and finally elected in 2015, said he will be on the bridge on Friday.
"I've protested before, and will attend this protest as well," he said.