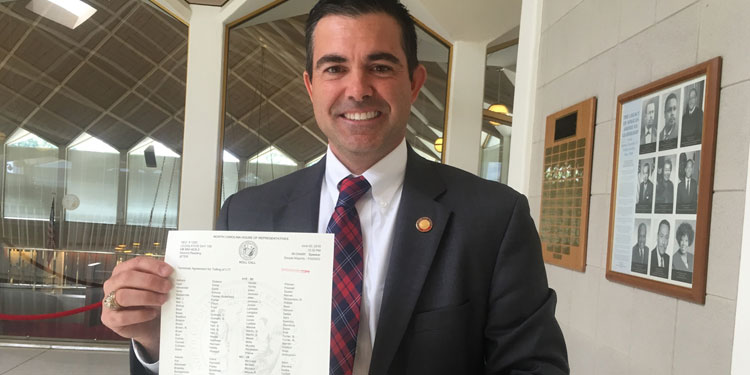 June 2. By Sam Boykin and Dave Vieser. Expressing deep concerns about the scope and financial structure of the I-77 toll project,  the NC House overwhelmingly passed House Bill 954 today, which aims to terminate the agreement with the Spanish company Cintra.
The bill can now go on to the NC Senate.
The lopsided 80-28 vote bodes well for Lake Norman, said jubilant co-sponsor Rep. John Bradford. NC Rep. Charles Jeter was the other co-sponsor.
"This really shows overwhelming support," Bradford said. "Rep. Jeter and I had a lot of support with this bill, and a lot of work led up to today. This is a victory, but we still have work to do."
He and Jeter presented the bill which would terminate the I-77 toll lane agreement with Cintra, the Spanish company in charge of the controversial project. Bradford, in an exclusive interview with Cornelius Today and Business Today, said the deal with Cintra is disastrous for the Lake Norman area. "It's like bringing a bazooka to a knife fight," Bradford said, describing the NCDOT-Cintra agreement.
The $650 million toll deal will be taken up by the Senate next week.
The legislation actually directs that the state cancel its contract with I77 Mobility Partners, a subsidiary of Spain based Cintra to build the toll lanes, and appropriates $25,000 from the state Highway Fund to be used for any legal fees incurred in determining the amount of damages that may be owed and other effects resulting from cancellation of the toll lane contract.
Although the bill received strong support in the House, it must go before the Senate and, if necessary, the Governor to become law. Top Senate officials have previously questioned the need for ending the contract with Cintra.
For now, however, Lake Norman residents finally have something to cheer about. "Take a breath and enjoy the moment" said County Commissioner Jim Puckett. "I was told by NCDOT this thing would be dead by Oct 2013, but that proved to be just the first of many untruths. Now comes the heavy lifting."
LKN Chamber President Bill Russel announced the vote at the Lake Norman Chamber Biz Expo: "We have the House, now it's on to the Senate." The I-77 Business Plan, an anti-toll leadership group, meets each Wednesday at the chamber to strategize.
Bradford has been ranked seond-most effective freshman representtive in Raleigh, according to the NC Center for Public Policy Research. A former Cornelius Town Commissioner, he and his wife Shea are Cornelius residents.
—Sam Boykin reported for Business Today live from the State Capitol