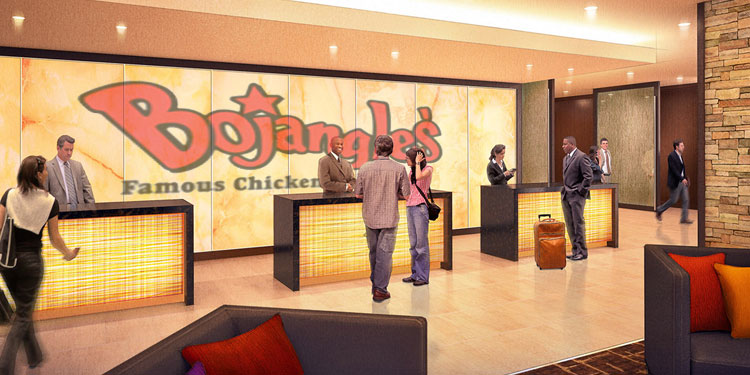 A prototype Bojangel's Hotel with 215 rooms and 25 extended stay suites will open in Kenton Place on three acres of property straddling the border of Huntersville and Cornelius.
"We are pleased to bring a new travel option, not just to the Charlotte market, but to America," said Bojangel's spokesman A.J. Liebling. The new hotel will feature the "NeverEnders" chicken buffet 24-7 on every floor. A unique, patented dumbwaiter will carry a variety of prepared "made-fresh" thighs, legs and wings to a central location on each floor.
Plans for the 14-story hotel were unveiled at a VIP and media reception on-site. Chubby Wings, the new hotel chain's mascot, greeted attendees with a cheerful wave and a choice of tasty chicken parts, including "Tenderz" processed slices.
Leaders in the business community were pleased. "Simply put, in terms of excellence, as well as vacancy rates in light of occupancy rates, not to mention an overall shortage of meeting options and venues for dining and overnight stays where visitors and residents can live, work and play, I'm no less than perfectly delighted," said Harold Ross, the CEO of the new Huntersville Businessman's and Businesswoman's Merchants & Manufacturers Association.
He said Cornelius in particular has done a good job of converting commercial land to tax-free church and non-profit status. The Bojangle's Hotel site is adjacent to both the Elevation Church and a new 14-story hotel planned on residential property across West Catawba Avenue.
Winnie Ruth Judd, the owner of a new luggage store in Jetton Village, said the Bojangel's Hotel brings "critical mass" to the Lake Norman hospitality industry. "It's all about heads in beds," she said.
---
This story has been approved by the April 1 Society