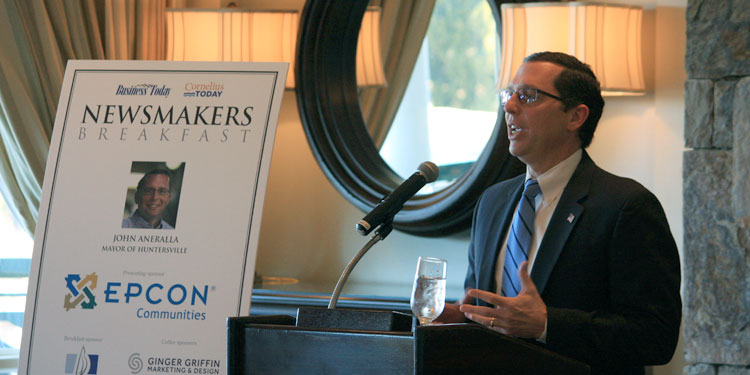 June 20. Huntersville Mayor John Aneralla has officially announced that he will seek a second term as Mayor. A small business owner and veteran community leader, Aneralla defeated incumbent Jill Swain by a wide margin in November of 2015.
"It is an honor to serve the people of Huntersville as their Mayor," Aneralla said upon announcing his candidacy for re-election. "Over the last year and a half, the town board and I have worked with town staff and with you, the citizens of Huntersville, to change the way business is in done in Huntersville. We've focused on making our town more fiscally responsible; improving the quality of life for Huntersville citizens by enhancing public safety, increasing parks and rec opportunities, looking for real solutions to traffic problems plaguing our community; creating a business friendly atmosphere throughout our town; bringing a new level of transparency and accountability to town government; and increasing communications between the town and our citizens and business community. "
Back in January, at a "State of the Town" discussion, the mayor told Business Today he was "leaning" toward running again. He meets regularly with citizens and business owners in a meeting room at Spare Time in Huntersville "John Aneralla in his short time as Huntersville's Mayor has been a very effective leader prioritizing the needs of citizens and keeping an eye to the infrastructure needs of the future, while balancing the business growth and development of the town," said Bill Russell, CEO of the Lake Norman Chamber of Commerce.
Aneralla was an early critic of the I-77 toll plan, laid out in a one-sided 50-year contract. Aneralla helped see to it that Huntersville exited the Lake Norman Transportation Commission, a regional transportation planning organization that promoted the failed Red Line commuter rail plan into Lake Norman, and was strangely silent as the $650 million Cintra-NCDOT toll plan turned into a fiasco, complete with unprecedented demonstrations not once but twice on the I-77 overpass in Cornelius.
Aneralla has more than 30 years of experience in the financial services industry. He is the owner and founder of an investment advisory firm based in Huntersville and he has consulted with companies in a broad range of industries including aerospace, manufacturing, and medical technology. He is a member of the Board of Trustees of the Local Government Employees' Retirement System and the Teachers' and State Employees' Retirement System. He additionally serves on the Investment Advisory Committee for the North Carolina pension system.
He  has served as president of the Lake Norman Kiwanis Club, lieutenant governor in the Carolinas Region of Kiwanis International, president North Meck Soccer Club (now Carolina Rapids), a Sunday school teacher and past volunteer coach for numerous swimming, soccer and basketball teams.
Aneralla and Nancy, his wife of 28 years, have been residents of Huntersville for the last 20 years. Their daughter Amanda is a graduate of North Carolina State University and their son Bennett just completed his third year at the United States Coast Guard Academy. The Anerallas are members of Davidson United Methodist Church