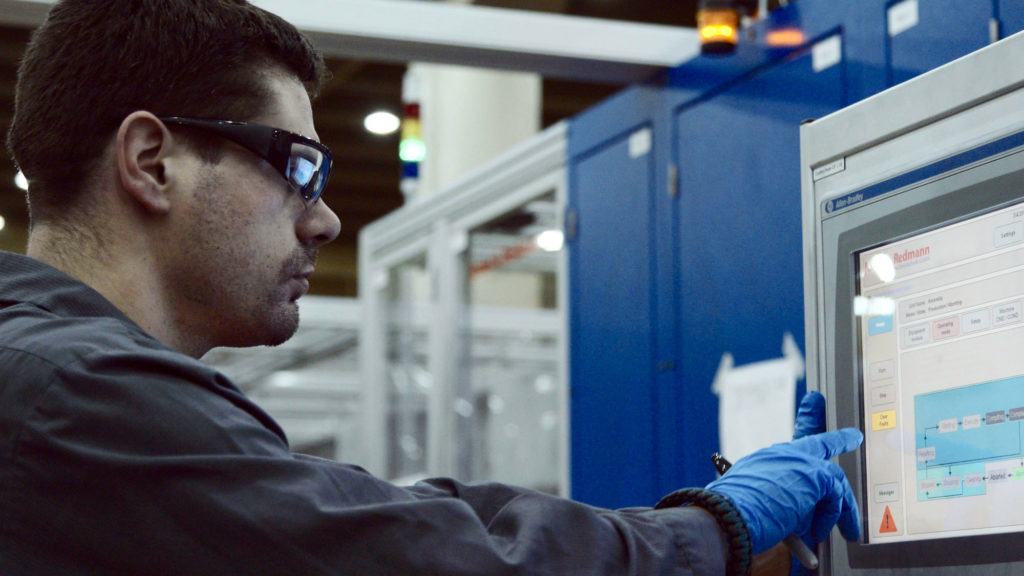 Dec. 5. By Marty Price. The skill sets are changing, but jobs in manufacturing will continue to grow, providing career paths for those willing to learn, says Scott Schotter, chief marketing and sustainability officer for Alevo in Concord. Indeed, the international battery maker is hiring 20 maintenance technicians in trade and salaried positions to keep the sophisticated machines that produce the batteries running.  "The maintenance tech position is a very important one for us because we have a number of different systems that have to work together," he said.
Workers with the multi-platform skills to work on and troubleshoot mechanical, electrical, plumbing and computer systems are in high demand and hard to find because so many people have left manufacturing.
"The jobs of the future in manufacturing are going to be around this kind of utility player.  As equipment becomes more sophisticated the people that not only run, but more importantly maintain and repair these systems, need a higher level of skill. That is going to lead to better pay and job security," he said.
"The concept that manufacturing is dying in the US is not true," said Schotter. Acknowledging that automation has replaced some jobs, he contends that it is also creating others.
"Alevo is a 21st century manufacturing company.  Automation is built into our systems. As we add more lines we are going to need more people.  Having the ability to understand and work with high-tech equipment is your key to job security and an upward financial path," he said.
The plant currently employs 300 people and the first GridBank is scheduled to be turned on next month, with a few more to follow. "Contracts are in place and we are getting product out the door as we speak," said Schotter.
"We are ramping up hiring because we are ramping up production," he said.  The company is planning on ordering three more production lines in 2017.
"2017 is going to be a break-out year for Gridbank installations across the country and around the world.  The years 2018, '19 and '20 will be 'Katie bar the door.' We're going to be one of the biggest manufacturers…possibly in the USA," said Schotter.
Alevo will be holding a job fair, sometime during the week of Jan. 16, at the Rowan Cabarrus Community College to search out the qualified applicants. Schotter said the date and location would be listed on the Alevo web site on the careers page, but stressed, "You don't have to wait for the job fair to apply."
He said that qualified applicants would come from many different backgrounds.  Some would be college graduates with degrees in mechanical and electrical engineering, others would be vocational/trade school graduates and some with applicable on the job experience.
"People who have served in the military are also a great resource. Whether they worked on tanks or submarines, they are familiar with sophisticated equipment and how to keep it running," he said.
"We don't have to have people with a tremendous amount of experience.  We do have enough senior people here that can train them.  As our equipment gets more sophisticated we will continue to train our employees," said Schotter.
For details on how to apply visit the Alevo careers page.