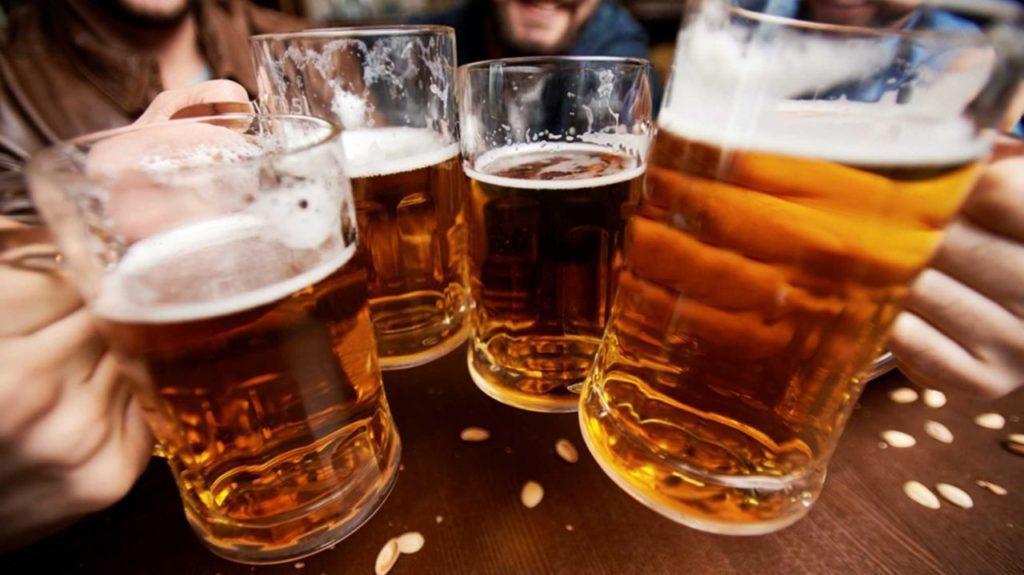 By Erica Batten. With a growing population and a business climate that is increasingly favorable to beer, wine and distilled spirits production, North Carolina, once known worldwide as a center for tobacco production, may have found a new ​economic ​drug of choice.
And like the large, leafy plant that once dominated the state's economy, the ​alcohol​ industry has found growth when the conditions are right: a favorable climate, scientific know-how, and the proper equipment.
Interestingly, North Carolina is among states with relatively low rates of ethanol consumption. According to the latest report by the National Institutes of Health, North Carolinians consume between 1.89 and 2.10 gallons of alcohol per year, ranking among the 12 lowest states.
Does this mean that North Carolina is​, ​pardon the pun​,​ an untapped market? Quite possibly.
According to the Beverage Information and Insights Group, consumers' attitudes toward beverage alcohol have changed nationwide, with Millenials driving expansion and preference for authenticity, quality and heritage.
Currently the ninth-most populous state, North Carolina's population is projected to top 12 million by 2035, according to the Population Center at UNC-Chapel Hill. More than two-thirds of that growth will be in Charlotte and the Triangle. Nearly a million new people will move to Charlotte over the next 20 years.
Chances are, those people will be thirsty.
Seeds Already Sown
Some regions of the state, primarily along the I-40 and I-77 corridors, have already developed as centers for alcoholic beverage production. Asheville, home to Biltmore Estate and a unique foodie culture, also has more breweries per capita than any other American city. It's been dubbed the "Napa Valley of Beer."
Lake Norman is home to the North Carolina Brewers and Music Festival, now in its seventh year. Hosted by Historic Rural Hill in Huntersville, this year's event features 43 breweries, most of which hail from the Charlotte region, including Cornelius-based Ass Clown, Bayne and D9 Breweries and Huntersville-based Primal Brewery.
For many brewers, business grew organically from personal interest.
"I got into brewing because it was a very passionate hobby that I wanted to see if I can make a life doing," said Matt Glidden of Ass Clown Brewery, located in Parkway Commerce Park. "There's a lot of science and chemistry behind brewing, and that's what keeps it fun due to constant learning."
As other brewers break into the market, products become more diverse. Brewers are experimenting not just with ales, lagers and stouts, but also with "hard" root beer, flavored soda, lemonade and cider.
Tar Heel State breweries have partnered with local farmers to create exciting flavors using sweet potatoes, blueberries and persimmons along with the traditional barley, wheat and hops.
Founded in 2014 by two engineers and a doctor, Cornelius-based D9 Brewery focuses on wild fermented beer, a brew made with naturally​ ​occurring wild yeasts rather than lab-produced brewer's strains. Its scuppernong and lily wild sour ale won acclaim in the 2016 Great American Beer Festival's Experimental Beer category.
Several local breweries brought home awards from the Colorado festival, including Asheville's Hi-Wire and Wicked Weed Brewing companies and Raleigh's Lynnwood Brewing Concern. NoDa's NoDajito won gold in the Herb and Spice Beer category. Brown Truck Brewery, based in High Point, won several beer awards as well as Very Small Brewing Company Brewer of the Year.
​Economic impact nearing $1 billion
Since 2010, the number of craft breweries in North Carolina has jumped from 45 to 130. Much of this growth is thanks to "Pop the Cap" legislation passed in 2005, which raised the alcohol limit from 6 percent to 15 percent on beer sold in the state and opened production up to endless new variety.
The North Carolina Craft Brewers Guild puts craft beer's annual impact on the state economy at $791 million.
​NC ​District 98 Rep​.​ John Bradford recently introduced a bill (HB 460) that would allow restaurants to serve beer and wine before noon on Sundays. The so-called "Brunch Bill" would also allow distilleries and ABC stores to offer liquor tastings and would increase the purchase limit at distilleries from one bottle per year to five. The provisions are optional and would not be allowed in "dry" jurisdictions, Bradford said.
"This bill has the support of many stakeholders from tourism and travel and the restaurant and lodging industry," Bradford said. ​An informal poll on Facebook ​indicates "there was seemingly unanimous support."
Craft breweries are currently limited to production of 25,000 barrels per year, an issue Bradford is also working on. A proposed increase to 200,000 barrels was recently removed from proposed legislation, but Bradford says he will continue advocating for looser restrictions on breweries. "It is simply too important for District 98 with the pending $10 million Olde Mecklenburg Brewery investment in Cornelius," Bradford said.
Earlier this year, Olde Mecklenburg Brewery invested $3 million in a 51,000-square-foot space on Zion Avenue. The Charlotte brewery plans to transform the former manufacturing facility into a German-style brauhaus and biergarten. To do that, Olde Mecklenburg will need to expand production from its current production of 21,000 barrels.
Craft Brewers have formed the Craft Freedom movement to educate voters on industry legislation and garner support. Even smaller breweries are on board.
"We are pretty small for the 25,000 barrel cap to affect us," said Ass Clown Brewery's Matt Glidden. "But we would love to see the cap raised. It's the breweries' right to self-distribute and should be, no matter what size they are."
In a 2016 nationwide industry survey conducted by the Beverage Information and Insights Group, over a quarter cited craft beer as the biggest trend impacting business, and a significant portion cited state regulation or legislation. But nearly half of respondents named whisky as the biggest trend.
North Carolina craft distilleries have multiplied over the past four years, particularly following a 2015 change in state law allowing producers to sell their product on-site. Numbering just 13 in 2013, more than 50 distilleries now dot the state map.
One of those new distilleries is Southern Distilling Co​.​ in Statesville. Situated fortuitously near the junction of I-40 and I-77, Southern Distilling hearkens back to Statesville's pre-Prohibition heritage as a major distribution point for more than 400 distilleries. The new distillery opened earlier this year in a 25,000-square-foot facility purchased in 2014 by Pete and Vienna Barger. The Bargers project a daily bourbon production of 40 barrels, thanks to four 4,000-gallon fermenting tanks and 40-foot continuous column.
Pollination Fosters Growth
Even as regulation seeks to curb growth in some branches of the alcohol industry, other branches grow organically out of a mother vine of North Carolina's economy: tourism.
Agritourism has brought visitors to Yadkin Valley, Duplin, Asheville and other native wineries for years.
In 2013, event planning and tour company the Charlotte Special Events Group began offering brewery tours to private groups. By December of the next year, 43 guests had signed up for the company's first public brewery tour, said president Peter Cuocolo. The company currently offers 31 different tours to breweries, vineyards and other attractions.
As brewing and distilling have expanded along the I-85 corridor, Cuocolo likewise has branched into Cabarrus County.
His company's Lake Norman/Concord Brew Ha-Ha tour starts at Primal Brewery in Huntersville, then travels via luxury coach to Twenty Six Acres, Red Hill and Cabarrus Breweries in Concord. Guests are served lunch courtesy of Brooklyn South Pizza and sample three beers at each brewery. Behind-the-scenes tours focus on unique aspects of each facility.
At Primal, the tour focuses on microbrewing methods, Cuocolo said. Red Hill's owners focus on local history. "They pride themselves on what Concord is all about," said Cuocolo. "Everything stays local."
New Markets
​Likewise,  Southern Distilling is relying on tourism to drive local interest. Its gift shop, at the distillery and online, offers everything from cocktail glasses and stirrers to rustic décor items like wagon-wheel coffee tables and factory carts. They're currently hiring a gift shop attendant and tour guides to conduct hourly tours and ​to ​lead tastings.
"We just set up the first-of-its-kind distillery tour for June 1," Cuocolo said. The tour will include Southern Distillery Company and Charlotte distilleries Doc Porter's and Great Wagon Road.
"You have to stay on top of it," Cuocolo said of the hospitality industry. "You can't stay stagnant."
Cuocolo had been considering distillery tours for a couple of years and only recently felt the time was right. His next move: the "Brew-llery" tour combining visits to local breweries and distilleries.
Beyond tourism, there are a host of related products, and not just fancy gift-shop sipping glasses. A quick perusal of any industry publication reveals suppliers of bottle corks and other closures, specially-sourced water, storage racks and barrels, boilers, columns, roller mills for grinding grain, grain storage and conveyors, and bottle filling systems.
Then there's the tech end: ​M​anagement software, distribution support, and consulting. Most of these industries are based out of state of even abroad, suggesting the potential for savvy investors to offer these products and services locally.
And while staying local may be advantageous for supplies and vital for tourism, big producers like Southern Distilling have their sights set on foreign markets.
The Bargers plan to market their bourbon in Asia, where demand is high for American luxury products. Like the former king of the Tar Heel economy, tobacco, North Carolina​ alcohol​ ​seems destined for worldwide demand.