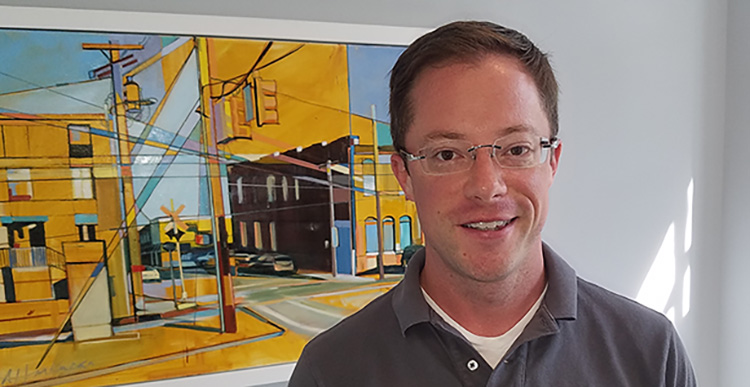 Lake price points higher,but it takes longer to sell.
By Dave Yochum.  The new Managing Broker at Sotheby's in Cornelius grew up in modest circumstances in Elkin. An industry leader, he gets his work ethic from his father,  a truck driver who still puts in 40 hours a week at the age of 71.
Jason Gentry at age 35 is the president of the Charlotte Regional Realtors Association, as well as the leader of 10-agent branch of Sotheby's International Real Estate in Jetton Village, just outside The Peninsula.
Across the street is a Helen Adams office, and a block away is the Allen Tate office where luxury agents like Dixie Dean and Anita Sabates hang their shingles. As the head of the Realtors Association, he's regularly in touch with the heads of other real estate companies as well as political leaders.
Gentry describes Sotheby's as as a boutique real estate firm specializing in the high end, while offering "white glove service" to a wide range of buyers and sellers.  It traces its roots to Sotheby's auction house, founded in 1744.
"It's like Tiffany," he says, "you get the same service and the same blue box whether it's a $100 charm or a $100,000 necklace."
Gentry has bachelor of arts (2005) and a bachelor of science (2006) in architecture from UNC-Charlotte, and graduated as real estate and the architecture profession were taking historic nosedives.
After stints at a couple of architectural firms he became a licensed broker associate in 2010 and was identified as a Rising Star by the Realtors Association in 2012.
Gentry says data around the Lake Norman market are intriguing:
In May the average price point in Lake Norman was $523,167 vs. $299,690 for all of Charlotte, he said.
Total days on market for Lake Norman was 70—for Charlotte as a whole, 38.
Percent of list price received for the lake region was 95.8 percent, vs. 97.5 percent for the entire Charlotte region.
There was a 4.6 month supply of inventory in Lake Norman during May, vs. 2.2 months for all of Charlotte.
While prices are higher in Lake Norman, brokers and real estate companies face higher costs because of the days on market (DOM) and the supply of inventory.
"Everybody thinks the market is really hot right now," he says. Well, it is and it isn't.
Anything under $350,000 will likely see multiple offers due to low inventory and strong demand, as well as steady appreciation, the head of the Realtors Association says.
But if you're hitting the MLS above $350,000, the market shifts and becomes hyper local, Gentry says.
The luxury market around the lake has experienced a big drop in inventory since the peak in the fall of 2009, when there was a 53-month supply of homes priced at more than $750,000.
Inventory in the luxury range is now around 10 months, Gentry says, about the same as pre-recession levels.
Sellers in the luxury ranges should be prepared for more haggling.
"The higher the price point, the more likely a buyer has the ability to negotiate on price due to the fact that there is more supply…and these homes traditionally take longer to sell," Gentry says.
Demographic segments are behaving differently, too. Baby Boomers are staying in their larger homes and renovating, Gentry says. "People are aging better; this gives them an ability to stay in their homes longer."
In the past, they have moved from homes in the 3,000 square foot range to something on the order of 2,400 square feet.
"Now the issue is there's no inventory…they can't move because there is nothing for them to move into," Gentry says.
Meanwhile, Gentry hears stories of some Millennials spending $3,000 a month to rent an apartment in Uptown Charlotte. There is plenty of lots of new construction inside the inner loop, "but it's all rentals," he says
When Millennials do enter the market, they're not going after the lower-price product, Gentry says, explaining that a young banker was at that moment closing on a $485,000 house—his first house.
Often younger buyers are looking for walkability and amenities nearby including restaurants and entertainment.
Will prices keep climbing? No one knows for sure. But in Charlotte, prices don't seem to soar at a dizzying rate, nor do they crash as hard.
Gentry says Charlotte is a "conservative, banker town" where homebuyers tend to be smart investors. "The folks here are more conservative and not willing to participate in that heated demand, but they will participate just enough to get the deal done. That's good for us."
Premier Sotheby's International has 40 offices and more than 1,000 agents, mostly in Florida and North Carolina. It's affiliated with Sotheby's International which is owned by Realogy Holdings, one of the top real estate ventures in the nation.