May 8. By Jason Benavides. 760 Craft Works is the Huntersville craft brewery that the locals have been waiting for. "I think it's a great addition to downtown. It has a fun atmosphere," said Marisa Gast, of Huntersville. Originally planned for Cornelius , owners Wagner Ramsey and his son Trey fell into fate when the old Huntersville Police station became an option for the brewery location.
The prime location is 8,000 square feet which consists of the 1,500 square foot tap room with 175 capacity and an outdoor patio with 200. The space is well designed with an open floor plan and high ceilings. Four legged friends are welcome inside and out with treats available for purchase.
When asked about opening day, Wagner who's been brewing since the '90s said "it's been a long time coming and my son and I are thankful the day has finally arrived. It's good to see money coming in versus going out."
760 Craft Works branding gives a lot of nods to the community. From the name derived from the 760 elevation line where Lake Norman is at full pond to Wagner's favorite beer, The Bob, an American IPA named after the Robert Blythe Building where the brewery stands.
What's on tap
760 had 12 beer options on tap Friday. The Sunsetter Northwest IPA was a popular choice, described as "not as piney" as typical NW IPAs. The Full Pond was a perfect Czech-Style pale lager on a warm afternoon. 760 sold their first keg to Hop & Vine Davidson.
They also offer non-beer options. The wine selection stems from small vineyards around the world. There's also a variety of ciders and hard seltzers to choose from.
The food choices include rotating food trucks Wednesday through Sunday. Nearby Slice House Pizza is also an option. Entertainment includes live music on the weekends.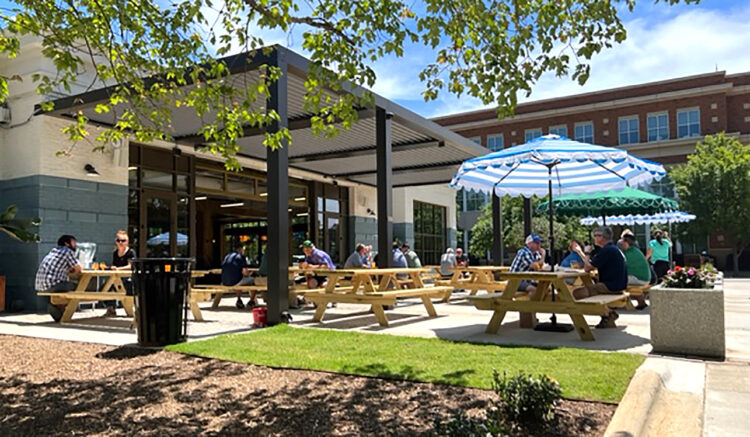 Want to go?
100 Gilead Rd. Huntersville, NC
Mon/Tues: Closed
Wed/Thurs: 3-10pm
Fri/Sat: Noon-11pm
Sun: Noon-9pm