By Kate Stevens. An Alabama-based real estate development company plans to invest hundreds of millions of dollars in efforts to transform downtown Kannapolis through four proposed projects including the construction of office, retail and restaurant space.
Corporate Realty Inc., of Birmingham, Alabama, plans to invest $300 million in new construction and the redevelopment of downtown properties beginning with a mixed-use block of properties and buildings on West Avenue adjacent to the city's proposed sports and entertainment venue.
This first project would include a five-story, 280 multi-family apartment development with retail on the ground floor and a parking deck. A pedestrian walkway would connect two separate buildings and outdoor amenities would allow residents and businesses to have views into the sports and entertainment venue.
The venture is part of the city's effort to preserve its 150-year old history as a former textile hub yet remake its downtown into a regional attraction for sports, entertainment and performing arts as more people travel from Charlotte to find a home in the suburbs.
The ambitious downtown revitalization project seeks to restore old buildings and construct new residential units, retail space, a performing arts center and a new stadium for the city's minor league baseball team, the Intimidators.
"Frankly, it's a unique opportunity you don't see that often," said Brian Wolfe, chief development officer of Corporate Realty, speaking of Kannapolis' downtown revitalization project.
Wolfe said Corporate Realty centers its projects on urban-anchored developments like minor league ball parks, amphitheaters, parks or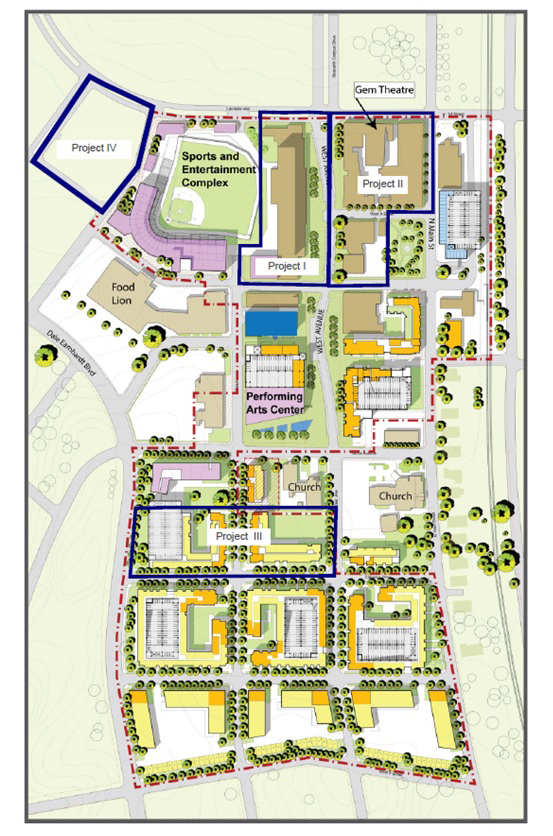 green spaces.
In the past five to 10 years, the trend has been to revitalize a city's urban core, a harkening back to the World War II-era when people were drawn to walkable communities and amenities at their doorstep, Wolfe said.
"We're happy to be a part of that trend," Wolfe said. "That's where our expertise lies."
Wolfe said the city has done a great job getting the word out about its revitalization efforts, specifically mentioning the town's request for proposals, or RFPs, for bringing downtown back to life.
"They've done an outstanding job of setting themselves up to be successful in the revitalization of their downtown," said Wolfe.
The relationship between the city of Kannapolis and Corporate Realty was established through a connection with the owners of the Intimidators, said Mike Legg, city manager.
"Corporate Realty was involved in lots of development surrounding the Birmingham, Alabama baseball stadium a few years ago," said Legg in an email interview. "In fact, they actually constructed the Birmingham stadium itself.  So, their specific experience with a similar project made sense to us."
Corporate Realty is the second out-of-state, private corporation to invest in a major economic development project for Kannapolis' downtown revitalization project.
The Demonstration Project, also known as VIDA, a $60-million multifamily residential and retail project by Florida-based Lansing Melbourne Group, is slated to begin construction in the next few months, according to Annette Privette Keller, Kannapolis spokesperson.
The development project will be located on West Avenue between Vance Avenue and West B Street.
On Jan. 22, the Kannapolis City Council unanimously agreed to approve a non-binding memorandum of understanding with Corporate Realty to begin the process of creating a formal partnership.
Wolfe said the corporation's proposed projects will be built with a public-private relationship with Kannapolis but Keller said in late January that facet of the deal is still under negotiation.
Over the next several months, the city and Corporate Realty will work to complete due diligence, create a development plan and negotiate a master development agreement to establish more details regarding the sale of property and its design, finance, construction, ownership and operations of the mixed-use block of properties and buildings on West Avenue.
This first phase would be completed by spring 2020 just as the city's sports and entertainment venue is expected to open.
The second proposed project includes a block of buildings adjacent to and south of the historic Gem Theatre. Buildings in this block would be redeveloped as historic, creative office space, retail and restaurant space and parking along with new construction. The city would retain ownership and preserve the Gem Theatre.
The third proposed project is an active senior residential community on a portion of the property between West Avenue and Dale Earnhardt Boulevard.
The fourth proposed project is corporate headquarters office space on privately owned property adjacent to the proposed sports and entertainment venue.