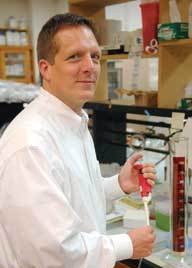 By Jennifer Woodford
John Cavanagh, PhD, assumed the role of interim president of the David H. Murdock Research Institute (DHMRI) in November with a clear directive from the board of directors.
He is to map out strategies to invest the $15 million annual endowment given in perpetuity by David H. Murdock, founder of the DHMRI and the NC Research Campus Sept. 30.
Cavanagh sees the endowment as a "game-changer" that will ensure DHMRI becomes a full-fledged research institute.
Since opening in 2008, attracting fee-for-service projects with companies, institutions and NCRC researchers has been the priority, but independent research is moving to the forefront with programs focusing on multiple sclerosis and diabetes.
"At the moment, I see a predominantly contract research organization (CRO) and some research. We want to try to redress the balance by significantly growing the pure research side," Cavanagh said. "We're not a conventional CRO because there is an intellectual investment here and talented scientists who don't just bring to the table hands and a machine. They help the clients develop projects scientifically. I'd like to at least maintain the CRO activities, preferably increase them, while ramping up our pure research."
Cavanagh isn't new to the DHMRI or NCRC. He was involved with the campus in its formative years and helped establish the DHMRI's nuclear magnetic resonance (NMR) laboratory.
As a scientist, he is a structural biologist with expertise in bacterial resistance in humans and plants.  He is the William Neal Reynolds Distinguished Professor of Biochemistry at NC State University (NCSU), heads a research laboratory and leads the Jimmy V-NC State Cancer Therapeutics Training Program. He is also co‐founder and chief scientific officer of Agile Sciences Inc., a biotechnology company focusing on antibiotic resistance.
"Being an entrepreneur helps out hugely," he said. "As an out-and-out academic coming into an operation like this, you only appreciate the science. Having started a company, I understand both worlds."
As the search continues for a permanent president, Cavanagh is enthusiastically pursuing the directive before him.
"My goal is to help the new president, when he or she comes, to hit the ground running by having several models ready of how to spend the endowment in the wisest possible way," he commented. "I'm very excited about that. There is a lot of potential here that is yet untapped."
More info: www.dhmri.org.