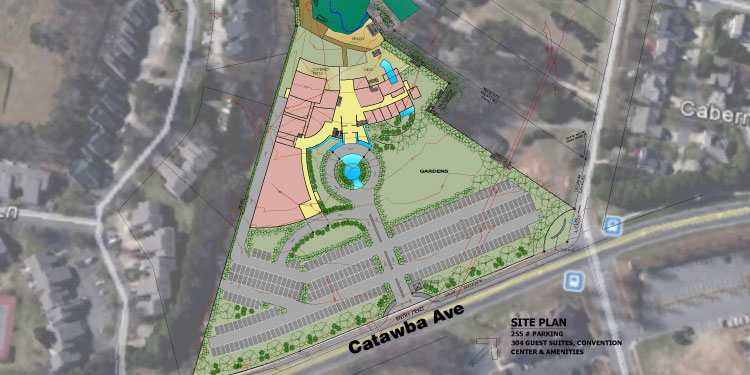 March 4. By Dave Vieser.  A 14-story hotel and convention center has been proposed for a five-acre site on West Catawba Avenue across from Kenton Place. Planning Director Wayne Herron has placed the proposal from Dr. Prasunamba Nara on the town's Pre Development Review Committee's March 8  agenda. Nara could not be reached for comment.
Drawings submitted to the town show a two-story convention/meeting center with a 14- story hotel with 304 rooms, Herron said.
Business leaders have long said that Cornelius is lacking meeting space, as well as a full-service hotel, but how a 14-story hotel will fly adjacent to a residential area is anybody's guess. At least one homeowner, in nearby Marina Villas, said her neighborhood would oppose the plan.
The drawings were submitted to the town with a card from Nara. Mecklenburg County tax records show adjacent properties—at 16801 W. Catawba and 7628 Waterview—are owned by a Sreeramulu N. Nara and Prasunamba Nara.
"Since we do not as of yet have an actual application, I have not actually asked his first name. I just make all of my references to Dr. Nara," Herron, the planning director, said.
Travis Dancy, director of sales for Visit Lake Norman, said that the last hotel that opened in the Lake Norman area was in the March of 2011. There have been multiple discussions and inquiries since then, he said.
Dancy said the Lake Norman area currently has 20 hotels with 1,604 rooms.  Rooms run about $69-$139 per night, depending on time of year and demand. The occupancy rate was 61.1 percent in 2015. A 304-room hotel would represent a 21 percent increase in the number of rooms.
"I do think we will see additional hotel growth.  We've seen an increase in occupancy every year since 2010 and the demand is there," said Dancy.  "There is definitely a need for a full-service hotel (generally defined as a hotelwith a large amount of meeting space, a food & beverage dept./restaurant and concierge service) in the market," he said.
The Nara proposal includes a main entrance off Catawba Avenue, a service entrance on the Marina Villas side, a beach area and a restaurant, as well as the hotel and meeting rooms. A single-family home is currently being built on the northern edge of the proposed hotel land.
The PDRC was formed two years ago to allow project applicants to receive feedback from actual decision makers prior to filing a conditional zoning application with the town. It's the preliminary first step in the town's development approval process, which also includes reviews and public hearings by the town's planning board, and, if needed, the full board of commissioners.
The PDRC meeting will take place at 12 Noon Tuesday March 8 in the Town Manager's Conference Room at Town Hall.