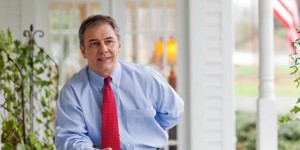 The new chairman of the Cabarrus County Commission will speak at Business Today's Newsmakers Breakfast Tuesday Jan. 13 at the Piedmont Renaissance Center in downtown Concord.
Steve Morris was elected by his peers on the commission to the leadership role in December, when three new commissioners, all Republicans, went on the five-person board.
Morris joined the commission back in 2012 when there were strong anti-incentive sentiments for new and expanding corporations. In December, the board voted 5-0 to restore $242,000 of funding to the Cabarrus County Economic Development Corp.
The Newsmakers Breakfast will begin at 7:30 a.m. Tuesday Jan. 13 and conclude at 8:55 a.m. Doors open at 7:15 a.m. for networking and a full country breakfast. The open forum Q&A begins at 8 a.m. The Piedmont Renaissance Center is located at 51 Union Street South in downtown Concord.
The presenting sponsor of the Newsmakers Breakfast is fellow County Commissioner Diane Honeycutt, who heads up Team Honeycutt in Allen Tate's Concord office. Breakfast sponsors are Ben Mynatt Chevrolet, Cadillac in Concord and Lucky Clay's Farm in Norwood.
The Coffee sponsor is KS Audio Video, based in Cornelius.
Newsmakers Breakfasts, which feature wide-open question and answer sessions with people who make the news, focus on business issues in the Golden Crescent region, which stretches from Cabarrus County to Lake Norman and University City.
Reservations are required. RSVP online here or call 704-895-1335. The cost to attend is $10 and includes a full country breakfast