By Dave Vieser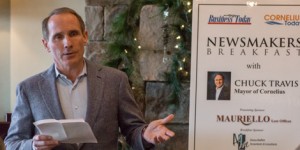 Dec. 11 N.C. Gov. Pat McCrory and Cultural Resources Secretary Susan Kluttz will help christen the new Catawba Avenue Bridge when it is completed early next year. It's the inaugural effort of the state's  "Art That Moves You" program, according to Cornelius Mayor Chuck Travis. He made the announcment at this morning's Newsmakers Breakfast hosted by Business Today and Cornelius Today.
"Our Gateway to Cornelius bridge structure, which will be installed after the holidays, has been chosen to serve as the prototype for this new state program designed to encourage more creativity and originality in areas such as bridge design," Travis said.
Travis said the ceremony will take place in either late January or early February. "The program's goal is to urge citizens and officials not to do typical bridges and structures, and we're proud that Cornelius will be in the forefront of this statewide effort."
The bridge over I-77 will close briefly one more time—sometime after Christmas—so that a massive superstructure complete with sailboat-like masts and cables can be erected safely.
The "aesthetic makeover" of Exit 28 will help brand Cornelius as the town by the lake, officials say.
The aesthetic makeover is valued at more than $2 million. It will also include distinctive abutments facing each direction of traffic on I-77. Thenew, nautically themed gateway bridge features five-foot lanterns on the four corners, as well as trees and other plantings.
The mast arms with cables invoke sailboat masts and sails.
The bridge was last closed in the spring when the traditional interchange was converted to a Diverging Diamond.
The closure, which will occur late this year or early next year, will ensure that motorists, cyclists and pedestrians are safe should the vertical cables swing into the roadway during construction.
The Newsmakers Breakfast was sponsored by: Mauriello Law Firm, Donna Moffett Accountants and Consultants, Aquesta Insurance Services and Davidson Wealth Management.