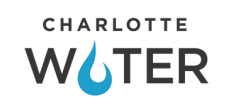 Jan. 12 The Charlotte-Mecklenburg Utility Department—better known as CMUD—is deep-sixing its old name. The new name is Charlotte Water, which "better reflects the identity established as the water and wastewater service provider to the Charlotte region," the publicly-owned utility said in a press release today.
The CMUD name dates back to a 1972 agreement between the City  of Charlotte and Mecklenburg County, but in conjures up the meter and rate-making fiasco that was unearthed in Cornelius back in 2010.
The utility's thinking back then was that well-heeled Cornelius residents could afford to pay more for water than the rank and file.
Former Town Commissioner Jim Bensman put his toe in the murky waters of CMUD back then and hollered "foul." The head of the Peninsula Property Owners Association, Jim Duke, led a task force on CMUD rate-making that ultimately brought down the entrenched hierarchy at the utility. Residents in Cornelius complained that they were being overcharged for water, and then-Mayor Jeff Tarte appointed Duke to head up the task force was formed. As a result, the rate structure was changed and CMUD initiated a more thorough testing of their meters.
"We've actually done quite a bit of work around our identity and learned a lot from our customers over the past two years," said Charlotte Water Director, Barry Gullet.  "We learned that many of our customers did not recognize our previous department acronyms, and that our name was not indicative of our work. With the rebrand, we anticipate that the new name will better align with the quality services our department provides." The department's web site is charlottewater.org
A full transition to the new name will occur over the next two years so as to minimize waste and cost. Customers will not experience any change in water and wastewater service because of the department name change.
Charlotte Water, the largest public water and wastewater utility in the Carolinas, serves some 818,005 customers in the City of Charlotte and greater Mecklenburg County — including the towns of Matthews, Mint Hill, Pineville, Huntersville, Davidson, and Cornelius.