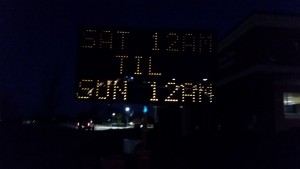 Get ready for Carmageddon Lite. The Catawba Avenue bridge over I-77 will close for 24 hours on 
Saturday, Jan. 10
. The 24-hour closing starts at 
12 am—midnight
—and runs through 
Saturday until 11:59 pm
.
Town commissioners and town staff hope that work on the nautically styled mast-and-cable superstructure will not hurt businesses near the exit.
Of course it did when the bridge was closed for the 24 Hours of Carmageddon back in June. Construction and lane closures wore on until Oct. 31, hurting businesses on both sides of Exit 28.
The $6 million diverging diamond interchange project—better known as the DDI—has a big payoff for the business community.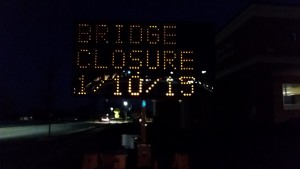 According to Mayor Chuck Travis, the high tension cables rising 38 feet above the roadway will be an iconic landmark for travelers on I-77, boosting tourism and retail as well as branding Cornelius as the Lake Town.
Moreover, Gov. Pat McCrory and Cultural Resources Secretary Susan Kluttz will help christen the new Catawba Avenue Bridge. It's the inaugural effort of the state's  "Art That Moves You" program.
"Our Gateway to Cornelius bridge structure, which will be installed after the holidays, has been chosen to serve as the prototype for this new state program designed to encourage more creativity and originality in areas such as bridge design," Travis said.
Travis said the ceremony will take place in either late January or early February. "The program's goal is to urge citizens and officials not to do typical bridges and structures, and we're proud that Cornelius will be in the forefront of this statewide effort."